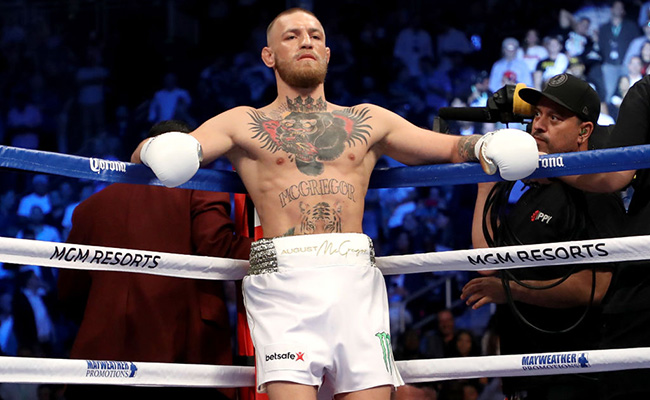 The rumors continue to swirl that Conor McGregor may have gotten into a bar fight with people related to the Kinahan drug cartel last Sunday in Ireland. The Kinahans are not the kind of people you want to be involved with, and are regularly in the news for murders and massive busts involving tens of millions worth of drugs.
There's still no confirmation that the story is true at all, and Conor McGregor isn't helping things by fanning the flames of speculation. Earlier this week he uploaded an Instagram photo calling himself 'the celebrity,' a reference to all the tabloid headlines talking about the unnamed 'Irish sports celebrity' that got into the fight. And now he's throwing out more innuendo, yelling "Come and get me!" from his car at the press.
McGregor was captured leaving court where he was fighting a speeding ticket for driving 160kph (he got the charges reduced to €400, which we think he can afford to pay). Dressed in an Adidas tracksuit, he pulled the collar of his sweatshirt up to cover his face like many gangsters do when they leave court, the same way he did in his 'celebrity' Instagram. He's clearly not taking any of this very seriously, which makes us hope the whole thing is just a rumor gone wild that Team McGregor is having some fun with.
McGregor's father Tony certainly implied that's the case.
"That's all nonsense, that is," he told the Irish Mirror. "Absolute nonsense. It's an absolute nonsense story. It's grown legs and it's getting that ridiculous – it's become funny. We have nothing to fear here whatsoever. There's no one after us for anything. We're a law-abiding family and we've stayed a law-abiding family."
"I'd view 95% of that story as nonsense and the other 5% is overly exaggerated," he finished. "And that's it."
Still, we have to say: even if this is completely made up, it's probably not a good idea to fan the flames of any story that connects you to a violent drug cartel.