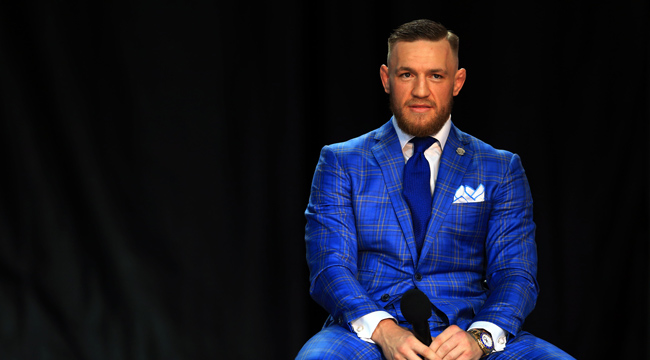 Conor McGregor had a lot of not so nice things to say about Floyd Mayweather during the Toronto stop of their World Tour, but he also took some time out to throw serious shade at Showtime Sports vice president Stephen Espinoza. Showtime is not only the PPV distributor for Floyd Mayweather's fights, the company is one of the main promoters for Mayweather vs. McGregor. With Showtime being so closely associated with Floyd for years, McGregor wasn't too happy about them keeping him in the dark over the format of the World Tour press conferences.
Typically for UFC press conferences, things go straight to a Q&A with assembled media. For these shows, it was all speeches … and McGregor had no speech prepared for tour stop number one in Los Angeles. That led to a slightly less bombastic press conference that many pundits gave performance of the night to Floyd Mayweather, who practically had a stand-up routine prepared. There was also some controversy in that McGregor's mic was turned off when Mayweather was speaking, leading Showtime to lead the broadcast for the Toronto press event with this denial:
"Does this mic work?" McGregor said when it was his turn to speak. He then punched a second podium mic to the floor. "Well then f**k that mic!"
After leading the crowd in a rowdy "F**k the Mayweathers" chant, he turned his ire to Showtime.
"And while we're at it, f**k Showtime too!" he shouted right in Espinoza's face. "You little weasel! Look at you, you little weasel. I can see it in your eyes, you're a f**king bitch. Cut my mic off? Cut the champ's mic off? Hell no, you f**king weasel, and you f**king bitch."
"They're trying to set me up at every turn," McGregor continued. "They're trying to catch me off guard. Trying to see me into uncomfortable positions. But I thrive in uncomfortable positions. There is nothing these can do to phase me. 28 years of age, I'm getting fight checks, and promoter checks!"
The behavior probably didn't anger UFC president Dana White, who hasn't had the best relationship with Showtime or Espinoza. Back in 2011 the UFC bought Showtime's MMA partner Strikeforce and absorbed it whole, pushing the cable channel out of the sport. That didn't stop Espinoza and White from making a deal on Mayweather vs. McGregor, and we suppose the millions of dollars both are going to make will take the sting out of McGregor's words.