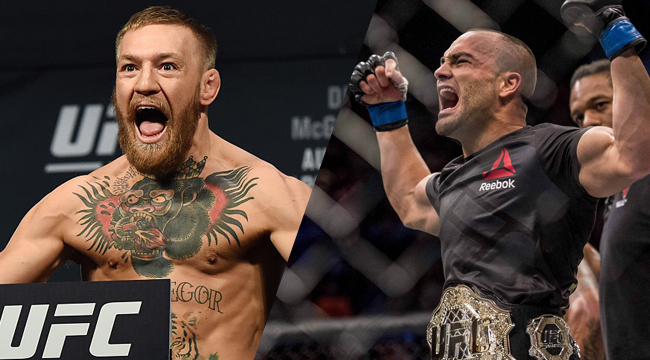 It's been clamored for, assumed, teased and denied, but now it's official: Conor McGregor will be fighting Eddie Alvarez for the UFC Lightweight Championship at UFC 205 in Madison Square Garden. The event is, of course, the UFC's official return to New York and being touted as the promotion's biggest and most important event ever and now it has a main event to match that billing.
A win would represent McGregor finally the goal he set out to achieve in 2016 by nabbing a second UFC title simultaneously. The current Featherweight champion was set to take on Rafael dos Anjos at UFC 196 in March but dos Anjos pulled out of the fight with a foot injury, giving way to McGregor's epic clash with Nate Diaz at 196 instead. Diaz eventually submitted McGregor with a rear-naked choke in round two of their welterweight bout setting off an incredible promo run leading to The Notorious One avenging his loss to Diaz in a war at UFC 202.
With that rivalry seemingly out of the way — for now — McGregor is clear to finally take his shot at history and the Lightweight title against the man who beat dos Anjos for that belt, and a victory would make him the first fighter to hold two UFC belts simultaneously. There is a caveat to all of McGregor's time spent above the 145 featherweight weight limit, Jose Aldo — the man he beat for that title — was awarded an interim title for the weight class after his win over Frankie Edgar at UFC 200 while Conor watched intently.
Despite all of that, a victory over Alvarez on Nov. 12 would make McGregor the official champion in both weight classes, just like he set out to be at the beginning of the year, even if it wasn't the path he imagined.