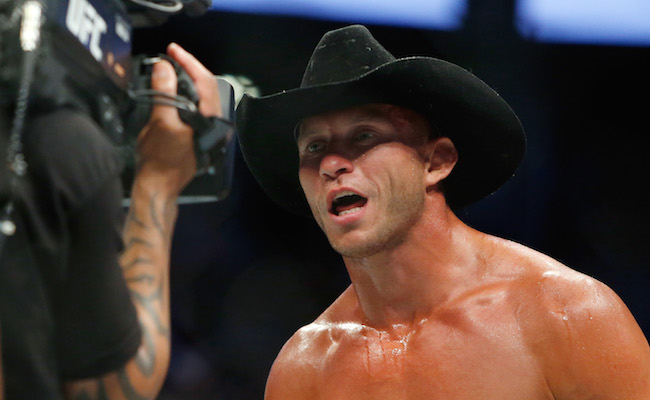 One of the UFC's most exciting upcoming bouts in a year that could use a little non-Conor buzz appears to be delayed once again. So, uh, try to keep up that anticipation meter full for another few weeks.
MMA Fighting reports that the scheduled UFC 213 fight between Donald Cerrone and Robbie Lawler is pretty much off thanks to an injury suffered by Cerrone during training. The sources spoken to by MMA Fighting say it's not a severe injury, but didn't offer up specifics on the undisclosed injury that will be sidelining Cowboy. The whole déjà vécu thing you're experiencing right now is because this fight's been postponed before. The promotion's big sparkly MSG coming out party known as UFC 205 had the fight as the first announced tilt, but the welterweight contest didn't go down because Lawler was still recovering from the devastating KO he suffered at UFC 201.
The likely landing spot for their eventual donnybrook seems to be UFC 214. There's arguably a smidge more casual fan marquee pull in the headlining (and also seemingly cursed) Cormier vs. Jones rematch at 214 than UFC 213's Nunes vs. Shevchenko 2 toplining bout, so this might pan out in giving Cerrone and Lawler an added spotlight to showcase their star power.
(Via MMA Fighting)