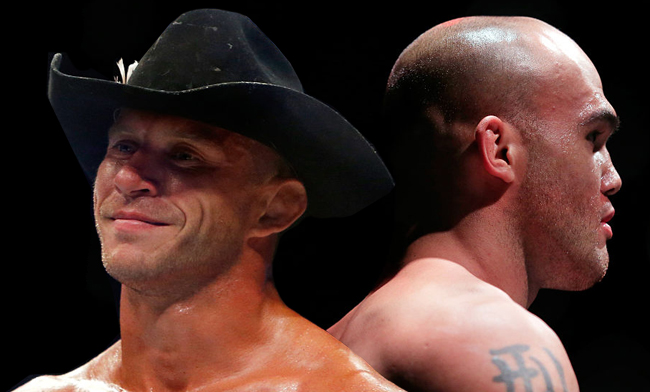 It's a match made in MMA heaven — former welterweight champ Robbie Lawler andDonald Cerrone are finally going to meet in the Octagon at UFC 213 this July. Seemingly during the UFC's international fight week. This is a meeting of two old-school bangers in the bodies of prime athletes. These are two dudes who love fighting to a scary degree — Lawler vs. Cerrone is why we watch MMA.
Now we have to wait until July to get it. Damn.

Lawler and Cerrone were rumored to fight at the end of 2016, but when that fell through, Cerrone decided to be his usual self and take any and all comers (usually on short notice). Cowboy's four-fight winning streak came to an end at the hands of Jorge Masvidal, who's looking at the top 5 of the welterweight division, where Lawler resides. Cerrone is backing up the bottom-half of the top ten, which makes this not only a good fight on paper, but also ups the stakes exponentially.
If either of these finishers can put on an impressive performance, they're possibly looking at a title shot. Lawler was knocked out by Tyron Woodley at UFC 201 and hasn't fought since. Meanwhile, Cerrone is finally taking a short break from his typically busy fight schedule to get back on the horse.
(Via BloodyElbow)