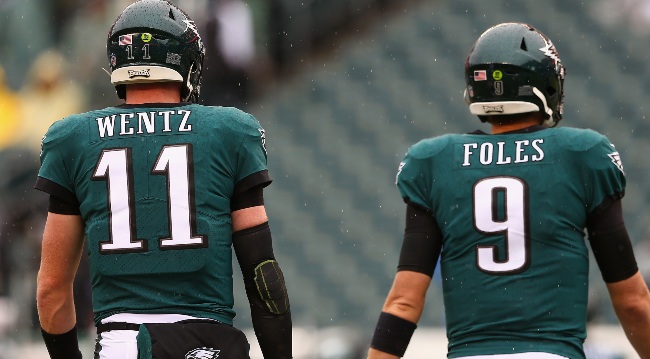 The Philadelphia Eagles' season came to a heartbreaking end on Sunday evening, as their hopes of defending the first Super Bowl in franchise history were dashed in New Orleans. While Philly fought valiantly in the toughest place to play in the NFL, a late interception while the team was driving for a potential go-ahead score in the game's waning moments secured a 20-14 win for the Saints.
It meant a huge offseason was ready to begin in Philadelphia, and while there are a few questions that need to be answered, one is at the forefront: Who on earth is going to be the team's starting quarterback? Would the job go to Carson Wentz, the oft-injured but MVP-caliber signal caller, or Nick Foles, who was out of his mind en route to leading the team to a Super Bowl victory last year?
On Tuesday afternoon, Eagles coach Doug Pederson answered that question, identifying Wentz as the man in the City of Brotherly Love.
"Yes, Carson Wentz is the quarterback going forward," Pederson told the media during a press conference, per ESPN. "And in Nick's case, listen, we'd love to have everybody back throughout the roster, but as I've said many, many times, it's not about one guy, it's about the team, and we're going to do what's best for the team."

It's a tough situation for both quarterbacks and Pederson. Wentz's health is a major question mark, as he arguably was the frontrunner for league MVP prior to tearing his ACL in 2017 and saw his season end this year due to a back injury. His contract is also up following the 2020 season, and the team will have to pay the 26 year old at some point in the future. Wentz is absolutely someone worth hitching your wagon to … but it'd help a ton if there was a backup plan just in case he can't stay on the field.
Foles is an even trickier case. His contract has a mutual option for next season worth $20 million, but he's already said that he'd "love" to be a starter next year, although soon after, he proclaimed that, "I'm signed for one more year and I love the team and I love the city. I'm excited for Carson to get back on his feet. I'll be ready to go whenever they need me." There's also the weirdness that is Foles' career — he was beyond sensational last postseason and looked great spelling Wentz this year, but despite being a Super Bowl MVP, his career in the regular season has not always been stellar.
There are pros and cons to both sides of this, and you can argue pretty easily that Wentz — who is younger and has a higher ceiling than Foles — should be the guy going forward, even though Foles absolutely deserves a starting job somewhere. In what is pure speculation, it's hard to see Foles on the team in 2019 under those circumstances, but it was hard to see the Eagles winning the Super Bowl with him under center, so anything is possible.