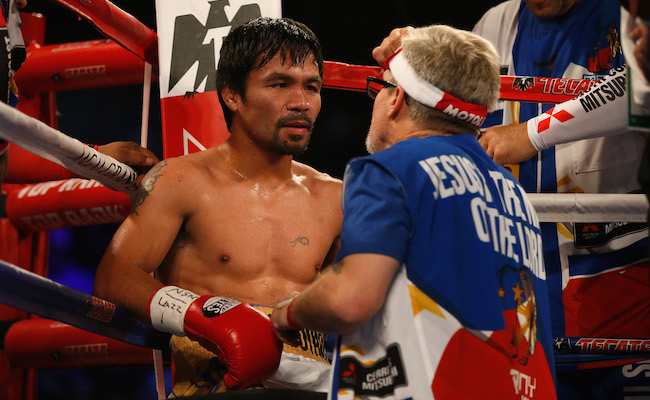 When Manny Pacquiao steps into the ring Saturday night at MGM Grand in Las Vegas against Adrien Broner, there's an uncertainty over just how things will unfold from his corner.
It won't be Freddie Roach, who has led nearly every fight since 2001, calling the shots individually for Pacquiao. He was displaced from his spot more than a year ago following Pacquiao's stunning loss to Jeff Horn. It also won't be long-time friend and assistant trainer Buboy Fernandez taking the solo lead, either, despite taking such a spot in Pacquiao's TKO victory over Lucas Martin Matthysse back in July.
Instead, Roach and Fernandez will split the duties of leading from Pacquiao's corner, according to Chris Mannix of Sports Illustrated.
"In training, Fernandez often takes the lead. He communicates with Pacquiao in his native language, Tagalog, and then relays to Roach what was said. Roach then offers his opinions. They split the mitt work evenly. There has been no decision as to who will work the middle on fight night—the in-ring spot usually reserved for the lead trainer to communicate with the fighter between rounds—but Roach says he isn't worried about it."
Pacquiao ended his 16-year, 34-fight run with Roach with a press release, without discussing the decision with his long-time trainer directly. In April, Pacquiao's adviser, Michael Koncz, told ESPN that the boxer's decision was due to him wanting to only have "one voice" to listen to from his corner.
Apparently that has changed in the months leading up to this bout with Broner. After the fight's press tour hit Los Angeles, Pacquiao welcomed Roach to his hotel suite to discuss reuniting, per Mannix. That led to a short 20-minute discussion and a handshake agreement for Roach to rejoin Pacquiao's corner, alongside Fernandez.