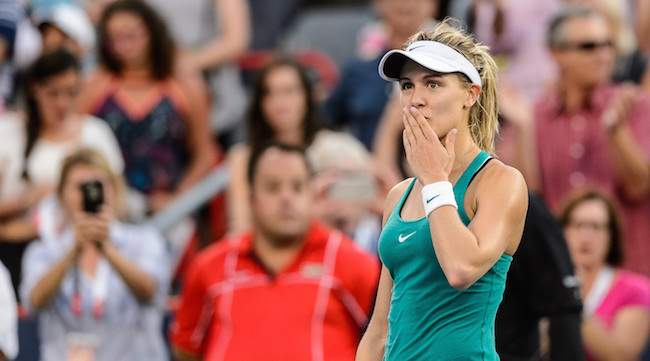 Tennis star Genie Bouchard learned the hard way on Super Bowl Sunday that you never count on Atlanta sports teams to come through for you and that you never count out Tom Brady and the Patriots.
Bouchard ended up losing a Twitter bet with a random guy who goes to the University of Missouri after he asked her if she'd go on a date if the Patriots won when they were down 21-0. Of course, the Patriots ended up winning in the biggest comeback in Super Bowl history as the Falcons blew a 28-3 second half lead. That meant Bouchard had to pay up in the form of a date, and she is a woman of her word so on Wednesday night she will be going on a date with the lucky young man from Twitter.
Bouchard explained the details of the date on Wednesday to Sports Illustrated's Maggie Gray during their chat about her appearance in the Swimsuit Edition. The tennis star explained that he would be flying into New York and the two will be going to a Brooklyn Nets game to watch the Nets take on the Milwaukee Bucks. It isn't the most thrilling of NBA matchups, but I don't think he'll be complaining about what the basketball is like on the court since he's on a date with Bouchard.