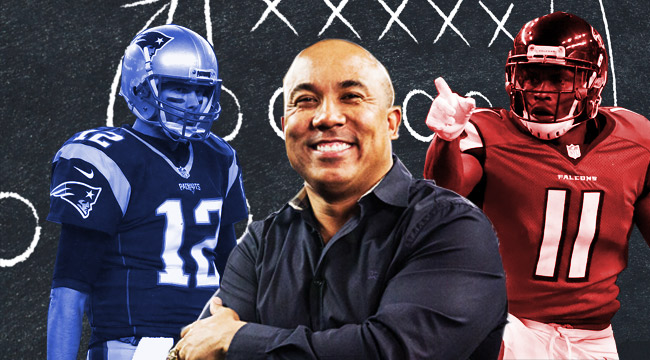 Like many experts, analysts, and fans, Hines Ward believes that the Patriots will win Super Bowl LI. After all, the Super Bowl XL MVP and probable NFL Hall of Fame receiver knows a thing or two about losing to the Pats when it counts, and especially when it hurts the most.
Tom Brady and Bill Belichick defeated the Steelers in the 2002 AFC Championship Game before winning Super Bowl XXXVI, and again in 2005, in humiliating fashion, before New England won Super Bowl XXXIX. Those losses will always sting a little.
"I hated on Tom Brady for so many years, because they beat us in AFC Championship Games and denied me two Super Bowl opportunities," Ward says with a laugh.
After he retired in 2012 and took a role as an analyst for NBC Sports, Ward was critical of the Patriots during the "DeflateGate" scandal, calling Brady a cheater. This week he's heading to Houston for Super Bowl LI as a judge on PepsiCo's Game Day Grub Match cooking competition, and Ward has long since changed his tune about Brady. He even eagerly declares that we're witnessing a man on a mission to take his throne as the greatest QB in NFL history.
"It's hard to go against Tom Brady," Ward says with a sigh, as if we're all just awaiting the inevitable. "I grew up a Falcons fan, so my heart is with Atlanta. The whole thing with DeflateGate, I called him a cheater and whatnot, but air in the ball or not, it doesn't really matter. The guy is great and has an opportunity to win his fifth Super Bowl – it's just amazing. No NFL quarterback has ever done that. Terry Bradshaw has won four, Joe Montana has won four."
"I think if [Brady] goes out there and wins," Ward continues, "like I'm predicting them to, he'll go down as the greatest to ever play the game. I can just see him now in GQ magazine, with one [ring] for the thumb, along with his model wife and whole family."
It's also very easy for Pittsburgh's all-time leading receiver to praise Brady when he just carved up the Steelers in yet another AFC Championship. At this point, Ward, like the rest of us, can only watch in awe as the Pats keep this rivalry one-sided, while Brady does more and more with seemingly much less.
"Look at Aaron Rodgers and what he has around him on offense," Ward says. "Look at what Matt Ryan has around him. What Ben Roethlisberger has around him. I mean, Chris Hogan? A guy who has one year of college football, was a lacrosse player at Penn State, played a couple years in Buffalo, and now first year with the Patriots and he's putting up the same numbers as Julio Jones. That's a testament to Tom Brady. He'll make you great, and he just plays with a chip on his shoulder. Tom Brady is dialed in, he's a man on a mission, and at the age of 39 he takes care of his body. For anyone in the AFC, the road to the Super Bowl goes through Tom Brady and the Patriots."
It also doesn't help, Ward admits, when your star player broadcasts Mike Tomlin's fiery postgame victory speech on Facebook Live. Antonio Brown has already apologized – multiple times – and Tomlin and Roethlisberger still voiced their displeasure with the flashy, talented receiver giving the Pats bulletin board material, as if they needed it.
Ward thinks Brown deserved the backlash, because he violated a serious unwritten law of the locker room.
"The locker room is a sacred place," Ward says. "There's a reason why it's closed to the public: Because things are said and moments are shared. You don't want them out there for the public. You bring the outside world into that and you cross a line, especially because you've got guys running around half-naked and Coach Tomlin trying to inspire his guys like he did. Social media can be great in many ways, but it can also be bad when you don't know how to use it. For Antonio's sake, 17 minutes of Facebook Live. That's a long time. You might as well just have a camera on you at all times if you want that kind of exposure."
Enough with the Brady worship, though. There are two teams playing in Super Bowl LI and the Falcons feature a fully-loaded offense that is bolstered by Julio Jones, who Ward believes is the best all-around receiver in the NFL right now.
"Odell Beckham and Antonio Brown are great playmakers, but this guy can do all those things and more," Ward offers. "The guy gives you blocking down the field, blocking for [Devonta] Freeman and those other guys. He runs great routes. He's got a banged-up toe and he's toe-tapping on the sidelines. Then that catch over the middle of the field was crazy. To be able to go high like that and catch the ball, come down and still hold onto the ball… to me, that was the best catch of the season for anybody."

Rodgers' reaction pretty much nailed it, but Jones' overall performance (180 yards, two touchdowns) was the stuff of legends. The Pats will certainly have their hands full in stopping him on Sunday, and while Ward thinks the Pats will win, the Atlanta resident will still be pulling for Jones and the Falcons, when he's not tied up in his duties as an official cooking competition judge.
Retirement has brought a bevy of new opportunities to Ward, including a dream role as a walker on season three of The Walking Dead, a truly bizarre moment with Verne Troyer on Wife Swap, and a spot on Season 12 of Dancing with the Stars. Perhaps because he wasn't up against Brady, Ward quick-stepped away from the ABC reality competition as the season's champion. And an experience like that, along with his human love for food, is what made him so willing to give Game Day Grub Match a go.
Alongside celebrity chef Anne Burrell and PepsiCo Corporate Executive Chef Stephen Kalil, Ward has helped choose which chef will attend Sunday's big game. And with this new experience, he offers the most basic piece of advice for anyone who is putting the finishing touches on their Super Bowl LI festivities.
"By the end of your Super Bowl party," Ward explains, "you want your dish to be completely empty. If your dish is not empty, you didn't do a good job on it." Ward adds that the experience was also self-serving, as he solicited culinary advice from Burrell and Kalil.
"I had lots of fun just picking their brains for different recipes," he says. "At my house, when we have a Super Bowl party, it gets very competitive. I was bugging Anne to give me that killer dish by using all the PepsiCo products. I love to eat, I love to cook. I'm not the best cook, but I'm better than all my friends and neighbors."
With such a great handle on life-after-football, Ward can serve as a resource to anyone contemplating his next move. For example, Roethlisberger recently hinted that he might call it a career, but no one really believes that he's ready to walk away just yet. That includes Ward.
"I'd be shocked if he did," Ward says. "I don't know Ben's health, if he's banged up or whatever, but I look at what he has coming back: LeVeon Bell, Antonio Brown, he's getting Martavis Bryant back after he was suspended for a full year. The weapons give him great opportunities for at least one or two more years. I can see him playing two, three, four more years. Plus, his contract — $18 million on the table. You don't walk away from that."
One player who is officially done with the NFL is another trash-talking, no-nonsense receiver: Steve Smith. Ward is confident that the guy who left the NFL in typical Steve Smith fashion will have no problem adjusting to his new freedom.
"It's weird when you don't have to wake up in the morning and go to something you've been doing your entire life," Ward admits. "Luckily, he's a fun guy who loves doing interviews and talking about the game, so hopefully he'll be able to cross over."
And if Smith has no luck finding a gig in the booth or studio, Ward is always down to take their attitudes to the Food Network for their own cooking show.
"No question about it," Ward laughs. "He's a competitor, I'm a competitor, so it would definitely go down. There'd be a lot of trash-talking."