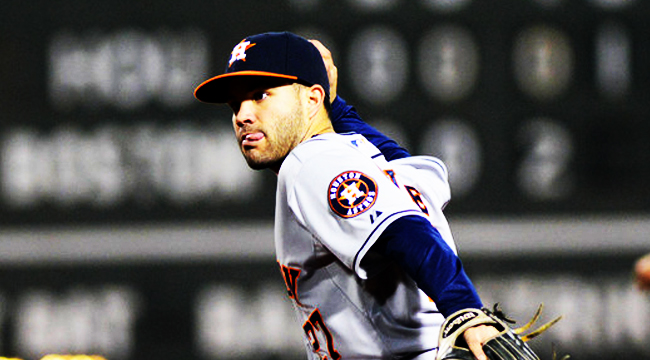 When the fourth game of the Houston Astros' American League debut came to a close on Sunday, April 28, 2013, at Fenway Park, I was reminded of something WBUR's Ken Powtak wrote after the third game. "Welcome to the new league, Houston," he said. "It's started out just like the old one."
Sure enough, the Boston Red Sox hammered my old home team, 6-1, to sweep a four-game series that, per Powtak's comments about the preceding (yet equally devastating) 8-4 loss, was eerily reminiscent of the Astros' final National League years. In a circular, unsurprising manner, the Astros were still scraping the bottom of Major League Baseball's endless barrel of stats. These weren't the same Astros I'd watched almost a decade prior, and considering the difficult move I'd made three months prior from Texas to Massachusetts, it suddenly felt like my favorite pastime was now burying me alive.
That's not to say the Red Sox or the Astros were directly responsible for my poor life choices in early 2013. I take responsibility for the decisions that led me to that point, just as I was then attempting to take responsibility for deciding to upheave my very livelihood (and future) with a poorly planned cross-country move. (The details aren't important, but I will say this: moving thousands of miles without any social connections or job guarantees is a bad idea.) Luckily, the opening of that year's regular season offered me something unexpectedly familiar at a time when what I needed most was some familiarity.
And since the Astros I'd loved since birth were still as disappointing as ever, watching them lose to the Red Sox at Fenway actually felt strangely comforting. I'd seen this drama play out before at other times and in other places, albeit not surrounded by so many fellow New York Yankees haters.
Houston's first year in the American League was a time of reconstruction. It was the final part of the franchise's efforts to rebuild the roster and reshape its strategy. This was largely thanks to the efforts of Houston businessman Jim Crane, whose group bought the team for $610 million in 2011. It was a deal that included a $70 million discount, partially paid for by Major League Baseball, on the condition that the Astros leave the National League they first joined in 1962. Many fans, myself included, didn't like the idea at first.
Complaints about designated hitter rules notwithstanding, then-Commissioner Bud Selig promised the decision would make for a "historic day" that'd be remembered fondly. He was right, but that first year in the American League was truly dismal. The Astros finished with a franchise-worst 51−111 record. It was a disappointing conclusion, but one I can now fully appreciate with hindsight. After all, it wasn't their first time losing 100 games, and second baseman José Altuve was already part of a fledgling-but-growing roster. They were bound for better things—or at least that's what I was hoping.
Yet if they were going to lose four games in a row to the Red Sox, I was glad they got do it in Fenway Park. By then a 101-year-old destination for baseball fans and ballpark aficionados alike, Fenway was very much the opposite of the Astrodome and Minute Maid Park. The former was a behemoth large enough to swallow your entire sense of self, the latter a park with a personality disorder whose smaller outfield was designed for big-time mashers (which, at the time, the Astros were devoid of).
But Fenway was magical to me then and still is today. It's a small venue with a big heart that's less than a mile from the Charles River. While sitting in its famous bleachers, listening to diehard Red Sox fans as they lobbed their heavily accented insults at my team's outfielders, I couldn't stop laughing. Fenway's heckling was far and away some of the best and most creative trash talk I'd ever heard. In a weird way, it made watching their team obliterate mine weirdly enjoyable. Not because I loathed myself (even though I did back then), but because it was true to the town's harsh (yet still welcoming) character. The Texans and Southerners I grew up with were partial to smiling at strangers and saying things like "please" and "thank you." New Englanders, on the other hand, would just as easily flip you the bird as ignore you. It was a shocking thing to witness as an outsider, but it was also the kind of tough love I needed.
"Wait a minute," you're probably thinking. "Not all New Englanders, Bostonians, 'Townies' or whatever you want to call them are like that." Obviously, but many of the local fans I met en route to, at, and departing that game were. That's not necessarily a bad thing. Consider the older gentleman and his son — both decked out head-to-toe in Red Sox gear — I stood alongside on the train to Kenmore Square, a major transit hub near the park. My fandom fashion was nowhere near as loud as theirs, though the redesigned Astros cap I'd recently ordered online was recognizably devoid of any iconic Red Sox insignia. That alone made me a subject of some fascination.
"The Astros, huh?" the old man said. "You from Texas?" I told him I was, that Houston was my hometown before I left for college. "Well, they're having a really shitty season so far," his son piped up. "Welcome to the American League!" I laughed. They laughed even harder when I insisted I wasn't any Yankees fan, but I found myself having similar exchanges throughout the night. Even in the bleachers, where a far more boisterous group of Sox fans were busy hurling insults into center field. "This guy's an Astros fan!" one of them shouted. A small chorus of boos rang out, but nothing personal came of it. A few of them even smiled and shook my hand: "Welcome to the other side, buddy."
There's a context for everything, as this recent American League Division Series taught me. In 2013, the Red Sox's first series with the Astros was simply a regular season introduction. Four years later, however, the beating my Houston team inflicted upon my second-favorite franchise — during their final regular season matchup and the ensuing playoffs — had undoubtedly turned the locals against the embroidery on my baseball cap. On September 28, my girlfriend and I sat in the grandstands and watched the Astros cream the Red Sox, 12-2. It was the opener of a four-game series, and while the Red Sox won the third game, it wasn't enough. Nor was it enough when they lost their shot at the American League Championship Series to the Astros a week later.
My girlfriend, dressed head-to-toe in Red Sox garb, was understandably less enthused than I was as the game progressed. So was the older couple in front of us who, after a few of my celebratory shouts, took notice. Seeing both teams represented behind them, they couldn't resist prodding. "How are you an Astros fan?" I explained I was from Houston and — repeating the anti-Yankees mantra I first practiced at this very park — assured them I did like and appreciate the Red Sox. Besides, while my home team ended 2013 with an abysmal season, their beloved Sox won the World Series that year.
I suspect this was on their mind when, before returning to the game, they said, "Well, good for you. Welcome to the other side."