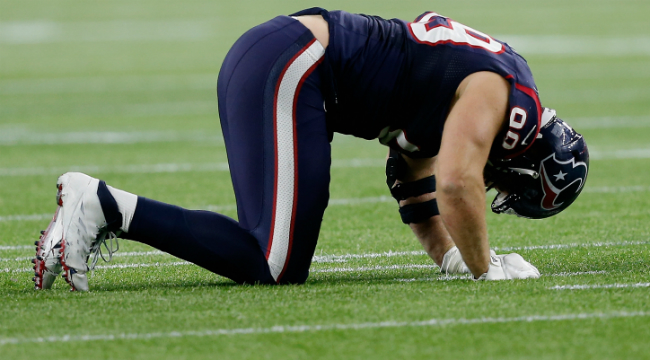 It turns out J.J. Watt is a pretty tough dude. When the Texans lost hideously to the Kansas City Chiefs in the Wild Card round of last season's NFL playoffs, Watt missed a large chunk of the second half with a groin injury. He's the consensus best defensive player in football, so missing him was a huge blow — not quite as big a blow as Brian Hoyer's disastrous performance, but still a hit to morale.
According to a new report by ESPN, however, it wasn't just a groin injury that kept Watt off the field, but a culmination of an insane rash of injuries that Watt had played through until his breaking point.
We know Watt played through a broken hand in December and still managed to lead the league in sacks and win his third Defensive Player of the Year, but just marvel at how his body was ravaged by the end:
According to a source, Watt had a partially torn right adductor longus, a fully torn left adductor longus and a fully torn left adductor pectineus in his inner thighs and groin.

But he also had partial tears in his left and right abdominals.

Some of those tears happened early in the season.
Watt still hasn't missed a game for injury, and has made no indication that the surgeries he got to fix his various tears will cause him to miss any offseason activities, so Texans fans can reduce their worrying from "OH MY GOD J.J.'S BROKEN" to "Man, for a durable guy he's got a lot of injuries."
(Via ESPN)