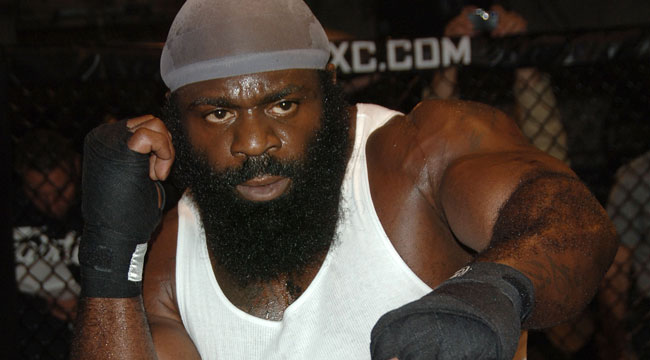 Kevin Ferguson, best known to the mixed martial arts world as Kimbo Slice, has died at the age of 42, according to TMZ. On Monday night, news broke that he was admitted to a Florida hospital in a "dire" situation, and he was reported as having died shortly thereafter. Some reports indicated that Ferguson had a heart attack and was unable to be revived.
Bellator CEO Scott Coker confirmed the news, via TMZ:
"We are all shocked and saddened by the devastating untimely loss of Kimbo Slice, a beloved member of the Bellator family. One of the most popular MMA fighters ever, Kimbo was a charismatic, larger-than-life personality that transcended the sport.

Outside of the cage he was a friendly, gentle giant and a devoted family man. His loss leaves us all with extremely heavy hearts, and our thoughts and prayers are with the entire Ferguson family and all of Kimbo's friends, fans, and teammates."
Kimbo Slice was one of the first viral stars of the burgeoning YouTube in 2003, after videos began circulating of him obliterating opponents in literal street fights. He became a meme before people knew what memes were and was eventually able to parlay his streetfighting prowess into a lengthy MMA career.
In 2008, Slice became the face of the startup MMA company EliteXC, which quickly built their heavyweight division around him. At the third EliteXC event on CBS, Slice was scheduled to face Ken Shamrock. When Shamrock was injured on the day of the show, last-minute replacement Seth Petruzelli knocked out Kimbo in 14 seconds. That loss, combined with Petruzelli insinuating EliteXC wanted him to take a dive, spelled doom for the company. Slice would not have his match with Shamrock until 2015, when he defeated the 51-year-old via TKO.
Slice would eventually make it to UFC, first as a contestant in The Ultimate Fighter and then on the cards of two events, where he was 1-1. He then went to Bellator. Along the way, he also managed to rack up a 7-0 professional boxing record.
Slice's last fight was at Bellator 149 in February, a bizarre fight that left his opponent, Dada 5000, in the hospital. Slice's victory was later overturned after he tested positive for steroids after the event. He finished his career with a professional MMA record of 5-2, with one no contest.
Here are some photos from that last fight.