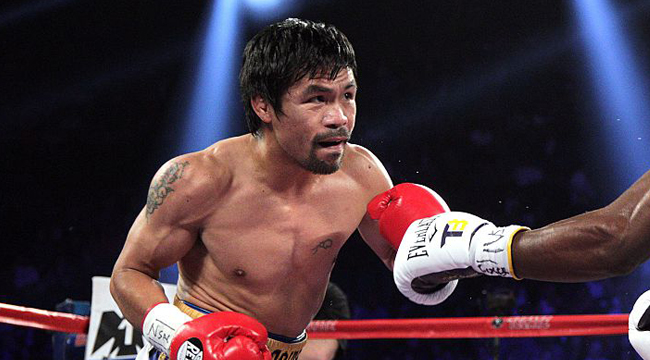 Despite insisting that his rubber match against Timothy Bradley last April would be his last fight, Manny Pacquiao has already made it known that he's got the itch to fight back (or it never left) and he's looking to step into the ring this November. Specifically, November 5, according to ESPN.
Manny would actually be fighting even sooner than the likely November date if he didn't have business to attend to as a senator in the Philippine senate. According to his promoter, Bob Arum, he's looking at taking a leave at some point so he can focus, once again, on boxing.
"Manny wants to come back. The problem is he can only come back if it doesn't interfere with his senate duties," Arum said. "We had penciled him in for Oct. 15 at Mandalay Bay but we were informed that is no longer possible because he has to spend that week leading up to Oct. 15 formulating the budget in the senate and doing the votes."
Michael Koncz, Pacquiao's adviser, doesn't believe that his return or any fights thereafter will affect Pacquiao's duties in the senate.
"Manny's primary concern and obligation is to fulfill his senatorial duties," Koncz said. "But he just misses (boxing). He misses the training. He misses being in the gym. You can see when he trains it's like a stress reliever for him. His mood changes. It's like he's in happy land. So I am working with Bob and Manny is working closely with the senate president to make sure the dates are OK. We're doing this properly."
Of course, many didn't believe Manny when he said his fight against Bradley would be his last. Not even Arum. That's why he refused to sell the show as Pacquiao's farewell.
"I would have been excoriated," Arum said. "I knew this would happen. I'm not an idiot. I wasn't going to say (the Bradley fight) was Manny's last fight and have people say I sold the fight under false pretenses. I didn't represent that so am I surprised by this? No. Not at all."
Now we just have to wait and see who the opponent is. According to Arum, the long-rumored Adrien Broner fight will not happen due to Broner's unrealistic purse demands. With Floyd Mayweather "retired" and the superfight between them a distant memory, where does Manny go from here?
"So we'll get another opponent for Manny to fight. I'm not sure who but we want a meaningful fight and an entertaining fight."
Will he perhaps call out Conor McGregor in some ridiculous bit of promotion until he settles on a fight against say, undefeated Terence Crawford?
(Via ESPN)