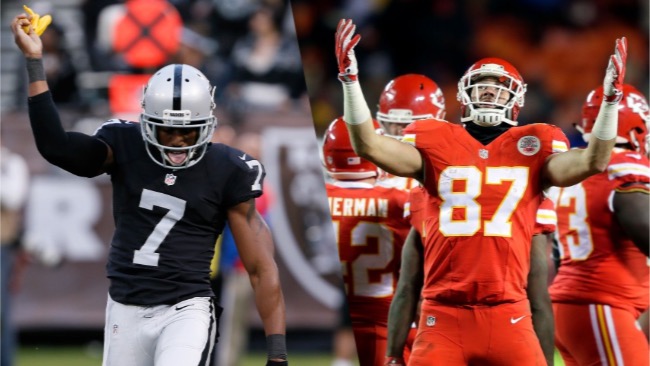 Travis Kelce, the Kansas City Chiefs tight end who desperately wishes he was Rob Gronkowski but is basically the Diet Shasta to Gronk's Coca-Cola, decided to taunt Oakland Raiders Marquette King on Thursday night. King has become known for his dancing celebrations after good punts, which really pushes the envelope on what one should be celebrating in sports, but hey, whatever.
During the course of the Chiefs' 21-13 win, Tyreek Hill returned a King punt for a touchdown. Afterward, Kelce mocked King by doing his little dance in front of him, this despite Kelce not really doing anything on the play. Heck, he may not have even been on the field for the play. But clearly he saw King dancing at some point this season and did not like it.
Here's what Kelce had to say about his dance.
Yes, the guy with a reality show that was designed solely so he could have sex with women desperate to be on television is judging someone else and using the word "antics." Catching Kelce is a dating show, and King made sure to use this when asked about the dancing incident.
That's a very good burn. King clearly wins this round.
(Note: King's punt on Hill's return touchdown was very bad and helped cost the Raiders the game, but a dude who had nothing to do with that play taunting a punter is a new low in sports trash talk.)