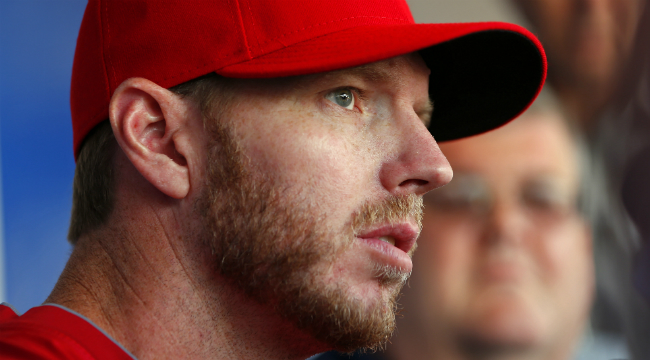 Two-time Cy Young Award winner, Roy Halladay, passed away in a tragic plane crash on Tuesday during a solo flight over the Gulf of Mexico. He was 40 years old.
Since Halladay's unfortunate passing, the reaction from those around the sports world has been a combination of sadness and celebration for the husband, father, and player that he was. The outpouring of support for his family, along with the hundreds of former teammates, friends, and opponents lauding both his character and obvious talent on the mound, has been appropriately deafening, and by all accounts, Halladay was everything you could ask for in a person.
Prominent Boston sports radio hosts, Michael Felger and Tony Massarotti, shared significantly different opinions on Felger and Mazz Wednesday afternoon in a jarring and, to many, offensive segment about Halladay's death.
Among the many points Felger made with regards to Halladay's death, most of them shared the common theme that Halladay got what he deserved, that he was an idiot, that he was a bad guy, and that they have no sympathy for him. Quotes like "I'm sorry dude, you're on your own. I got no sympathy for you" and "if that's how you're wired, and that's how you die? Bon voyage." are littered throughout the segment that Deadspin posted in its entirety here.

Felger and Mazz noted Halladay's wife was against Roy buying the plane, and the footage that TMZ released Wednesday morning that showed Halladay flying extremely close to the surface of the ocean. According to the witnesses that spoke to TMZ, Halladay had been "flying like that all week. Aggressively."
Until an investigation is completed, we won't know the cause of Halladay's accident and whether aggressive flying played any role in the tragedy, but whether that's the case or not, the way Felger made his point, by mocking the accident, and the complete lack of sympathy shown to Halladay's family is jarring and unnecessary. To cap off Felger's point, he compared Halladay's death to Dale Earnhardt, revealing that in those situations he "roots for the wall."
We're only a day removed from Halladay's death, and it's surprising that this is the message Felger and Massarotti chose to deliver to their thousands of listeners. Beyond the obvious lack of empathy for what happened to Halladay, and by association, his family, it's remarkably inhumane. What happened to Roy Halladay and his family on Tuesday was a tragedy, and any argument against that sounds an awful lot like contrarianism for contrarianism's sake, and, even by the low standards of the world of shock jock radio, this is an incredibly disgusting and distasteful segment.