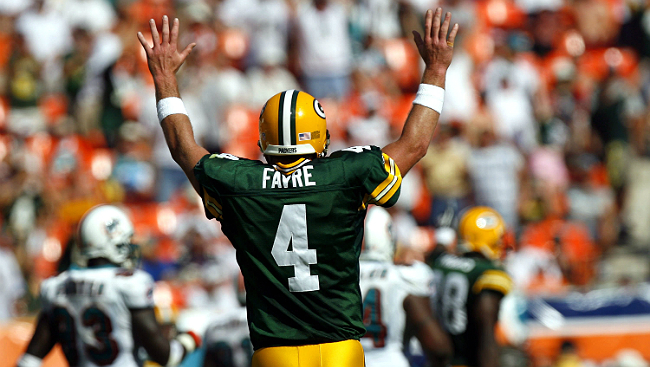 After months of wandering aimlessly through the desert of no football, we've finally found a little oasis town called the NFL Preseason. Finally, we can throw out this canteen of nothing but Baseball stats and get back to the sport we truly love. Sort of. I mean, it's technically football, right? It's football the same way light beer is still beer. It may not satisfy, but it's something and will do in a pinch.
Before we get to the official preseason games, however, we've got Hall of Fame weekend to enjoy. Since your brain has likely glazed over since football was last relevant, let's take a moment to reorient ourselves with the lucky players the Hall inducted this weekend.
BRETT FAVRE – QB
You best know him as a superstar for the New York Jets and for being a dick pic pioneer. Okay but seriously, you know Brett Favre. Brett Favre transcended football. I don't have to list his accomplishments. If you grew up in the 90's and watched football, you loved Brett Favre (Maybe not if you were a Bears fan) because Brett Favre was the football player we all wished we could be. Just a big kid going out there and throwing the ball like it was backyard football.
Remember when Favre sent the infamous dick pic and people wondered if it would affect his legacy and make it hard (Pardon that pun) to get into the Hall of Fame? Yeah, no dick pic was preventing this from happening. Favre is a football hero and belongs here. He ended up bringing the house down on Saturday night with his show-stopping, main event induction speech. Favre forever.
Marvin Harrison – WR
You know him best as the guy on the receiving end of most of Peyton Manning pass attempts. A quiet, smaller than average WR who was quick and had great hands, Harrison holds the record for receptions in a single season (143). Marvin is seventh all time in career receiving yards (14,580), third all time in career receptions (1,102), fifth all time in career receiving touchdowns (128), and eighth all time in career reception yardage per game (76.7). He holds one championship ring (2006 Colts).
Orlando Pace – OL
If you aren't a football nut, Orlando Pace might not mean much to you. If you are a football nut, you Orlando Pace was the third member of the amazing trio of offensive lineman of the decade (With Walter Jones and Jonathan Ogden, two other hall of famers). Pace was the cornerstone for the St. Louis Rams turn of the century dominance on offense, the unheralded hero of the Greatest Show on Turf. Without Pace, Kurt Warner and Marshall Faulk may have never set the league on fire.