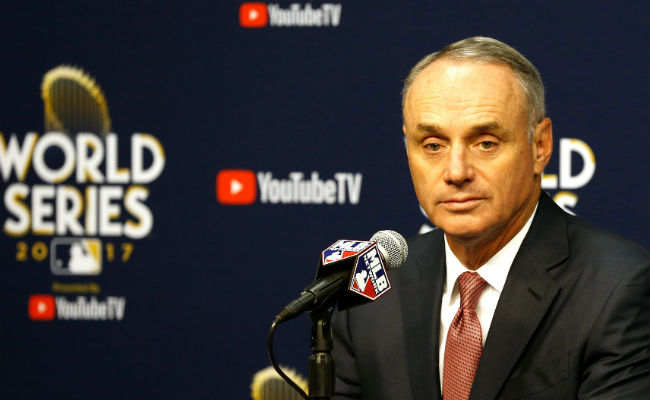 The Miami Marlins are a mess, and everyone in South Florida is blaming Derek Jeter for buying the team and promptly reverting to Jeffery Loria nonsense. This is despite the fact that Loria, the guy who routinely blew up the Marlins to turn a buck after successful World Series, had already cashed out once and for all.
Things got tense at a Marlins season ticket holder meeting on Tuesday when Marlins Man and other fans ranted at the former Yankees shortstop for trading slugger Giancarlo Stanton to New York in a blatant effort to shed payroll at the cost of one of its superstars. But it's not just hyper-visible Marlins fans that are upset about the Stanton trade or the other moves the team has made this offseason.
There's speculation that others knew the team would be shedding payroll, even before Jeter's ownership group took over. And that talk set the stage for an uncomfortably tense interview between Miami-based ESPN employee Dan Le Batard and Major League Baseball commissioner Rob Manfred, who joined Le Batard's radio program on Wednesday and had a fiery back-and-forth with the host.

The best of the interview is here on ESPN's audio site, but the exchange included Le Batard essentially calling Manfred a liar when he denied knowing the Marlins would slash payroll before Jeter took over.
In a combative interview on ESPN Radio, host Dan Le Batard told Manfred: "We are starting with a lie" when Manfred said he did not know the plans of new owners Derek Jeter and Bruce Sherman during the approval process.

"I'm not going to have you call me a liar!" Manfred said.

Two people directly involved in the sales process said that Jeter and Sherman were required to tell other owners their intentions with payroll during the approval process, and that they informed the other owners that payroll would be cut from $115 million to the $85 million to $90 million range, with $85 million used at times and $90 million other times in those discussions.
Le Batard clearly felt like he's defending frustrated Marlins fans who cannot confront the commissioner about this themselves, but Manfred was not having it.
"We did not have player specific plans from the Miami Marlins or any other team during the approval ownership process," Manfried said on Wednesday. "Those are decisions the individual owners make. We do not approve operating decisions by any ownership, new owner or current owners. As a result, the answer is no."
But that's not what the Miami Herald's reporting indicated on Wednesday. In fact, a source said Manfred had direct knowledge of what Jeter called Project Wolverine.
A source directly involved in the Marlins sales process, after hearing the Le Batard interview, said, via text: "Commissioner said was not aware of [Jeter] plan to slash payroll. Absolutely not true. They request and receive the operating plan from all bidders.

"Project Wolverine [the name for Jeter's plan] called on his group to reduce payroll to $85 million. This was vetted and approved by MLB prior to approval by MLB. Every [Jeter] investor and non investor has the Wolverine financial plan of slashing payroll to $85 million. Widely circulated."
If something like this is "widely circulated," it makes sense that Le Batard is so upset about the commissioner of Major League Baseball coming on his show and falsely saying otherwise. It's also a bit silly that Manfred is trying to defend Jeter's ownership group, who are clearly burning the team to the ground at the expense of Marlins fans once again.
One of the most telling moments came when Le Batard implied Manfred cared more about the sale price of the team than Marlins fans.
"You have no idea what I care about and don't care about," Manfred said. "A competitive club in each one of our 30 markets is a foremost concern."
That may be true, but it's also very difficult to see the Stanton-less Marlins being competitive in the near future, either.