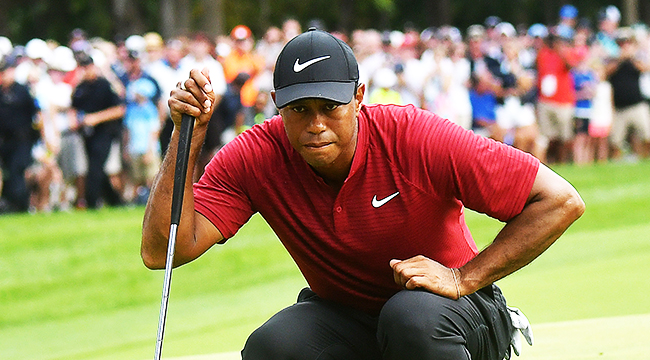 Until Sunday at Bellerive Country Club, there had been one glaring hole in the argument that Tiger Woods was "back." There was no doubt that he was a competitive force again, and no doubt he was one of the best golfers on Tour again. But for Woods, arguably the greatest golfer of all time, the bar for "back" isn't simply to compete and pick up Top 10 finishes but to make shots and do things in the big moments that few, if any, can.
Woods has been in the mix a few times but his Sunday performance, particularly on the back nine, has not been up to his once unassailable standard. At the Valspar in Tampa he finished one shot back of Paul Casey after stalling out with a final round 70, only able to make one birdie on the back nine with a chance to win. At The Open at Carnoustie, he held the lead as he made the turn, but a 2-over 37 on the back saw him fade back to T6 as playing partner Francesco Molinari went on to win.
On the season, Woods' back nine scoring average on Sunday has been a mediocre 35.67, good for T109 on the PGA Tour. Perfectly average, which is to say, very un-Tiger-like.
Then, there was Sunday in St. Louis when he posted a 64, going 32-32 to finish second alone, two back of Brooks Koepka in what was Woods' best career final round at a PGA Championship. There were hiccups for sure. The wayward drive on 17. The two missed putts by a combined inch that could've been the difference in forcing a playoff. The whole not hitting a fairway on the front nine issue.

However, for every mistake there were two moments of heroic brilliance ready to erase them, which is truly the most compelling case that Tiger is "back." Woods has always fought wayward misses off the tee. Woods has hit more than 70 percent of fairways only twice in his career (1999, 2000), and comparatively has hit fewer than 60 percent of fairways four times in his career. He's never really been a robot — 2000 season aside — that just pounds fairways and hits greens from position A. It's what he does from position B, C, D, and X, the places even good Tour pros tend to take their medicine and chop out to try and limit the damage to a bogey, that has helped separate him.
In those spots, Woods scrambles better than anyone and hits shots few else in the world have ever been capable of hitting. It's turning a tee shot that should lead to bogey into a birdie that has helped give him such a tremendous advantage. He's never yielded to the course or to conventional wisdom. Four of the best words in golf are "Tiger is looking up" as he prepares for an approach after a tee shot finds its way deep into the Woods.
That is where we get some of the most magical moments, and on Sunday at Bellerive, we got those. On No. 5, Tiger found himself in the trees when Dottie Pepper uttered those beautiful words, "Tiger is looking up." From 181 yards he gave a mighty lash with a 9-iron to send his ball over the tree tops on a line directly at the flag. It came up a few yards short in the rough, but it was one of those "oh, he's really back," moments, because it took full confidence in both his back and his swing to even consider trying that shot. Naturally, he got up-and-down for par.
On No. 8, it was a snap hook to the left with his driver that endangered the patrons lining the fairways 10 deep. From there, with a fairly clean lie and a look to the right side of the green, he thrashed at a 3-wood from the rough, running it into the right greenside bunker. He got up-and-down for birdie.
On No. 9, he repeated the same action on the tee box, getting too quick with his transition and sending a tee shot left again, flirting with disaster as out of bounds lurked. Luckily the gallery is thick when Tiger's on the course and they acted as a bit of a buffer to keep his ball on the cart path. From there, well, I'll just let the video show you.

The putt was far from a gimme, but for the old Tiger it would've never been in doubt. In 2018, however, it was a question, one that Tiger answered emphatically with a perfect roll and a fist pump.
Tiger's back nine featured far less adversity off the tee as he settled into a rhythm and was able to find the fairway. From those positions, he fired darts into holes, showing total disregard for any danger lurking around those Sunday pins. His best effort on the back nine came at 15, knowing he needed birdies coming home as he was two back, and he produced an approach to a foot shy of the pin, eliciting massive roars from the Bellerive faithful.
A birdie bid at the 16th went begging and the drive into the hazard on 17 all but sealed his fate, but he still grinded out a par on 17 and produced one last roar on 18 with a long birdie putt and a big fist pump.

The biggest difference between now and 10-20 years ago is that the guys he's battling grew up idolizing him and learned how to attack golf courses the same way he did. The intimidation factor will come back some, but it will never get to where it was, because guys like Brooks Koepka and Justin Thomas are, stylistically, just like Tiger in the way they go after golf courses. Tiger used to bully courses into submission with length and sheer brute force. If he found the trees, so be it, he would just go over them to get out of trouble.
This generation of golf stars plays just like that, and the best are capable of Tiger-esque feats as we saw from Koepka on Sunday. He heard every roar produced by Woods and simply pushed forward, pounding drivers and attacking pins. That is Tiger's legacy as much as the 14 majors and 79 career wins. He changed golf forever and, ironically, that influence is what will make his road back to winning all that much tougher.
Sunday proved Woods is capable of going toe-to-toe with this generation of golfer that he created, and that's great for the game itself. Tiger elevates golf in a way that few individuals have ever done for their sport. It's clear he enjoys being out there more than he once did — having what you're best at almost taken away from you will do that — but that laser focus is still there when needed. Those purposeful strides, piercing gaze, and unassailable will to make the best score possible from any situation returned on Sunday. And unlike other times this year, it didn't fade on Sunday.
Watching the final round of the 2018 PGA Championship was the most fun I'd had as a golf fan in some time. That's not to say there haven't been spectacular major championships without Tiger in the mix, but for someone that grew up in the Tiger era and had resigned himself to the idea that those halcyon days had passed, there were feelings I'd assumed to be long dead inside me that returned to the surface on Sunday.
It wasn't just Tiger, though. His play was elevated by the fact that Koepka, Scott, and Thomas all brought their A-game to Bellerive, making it all the more impressive that Woods was not just hanging in there but reeling in the game's biggest fish once again. He came up short, but that was more a product of Koepka's incredible play than a letdown on Tiger's part.
Tiger brought the feels back on Sunday. That tingle when he looks up over those trees, knowing magic is about to happen. Or when he strides after a tee shot, twirling his club while the ball is apexing. Or when he walks in a putt, fist-pumping in exuberance as it drops. It was all there, even if it didn't culminate in a trophy celebration.