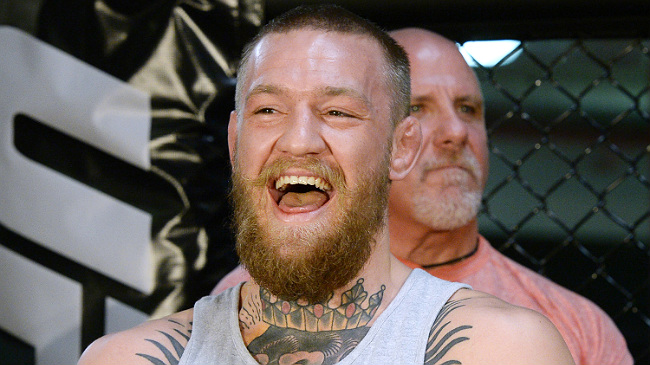 Conor McGregor is coming back. That much needs to be admitted across the MMA universe. He was never not coming back, he never said he was retiring (outside of one cryptic tweet that was blown out of proportion), and it makes total sense that a guy who made nine figures after fighting Floyd Mayweather may want to take some time off and spend his money after being one of the most active UFC fighters over the last few years.
But still, Conor McGregor's absence from the Octagon since November 2016 is concerning for some. He's been stripped of the featherweight and lightweight titles, he's thrown a hand truck through a bus window… He seems like he doesn't care about fighting, but keeping up with his social media tells a different tale. The man is training, and he will be back. Now we have a better idea when.
Following UFC: Liverpool, Dana White was reportedly supposed to meet up with McGregor. That didn't happen, but White says they will meet up soon, and there's one fight that's going to be discussed: McGregor challenging Khabib Nurmagomedov for the UFC lightweight title.
"Conor and I are going to meet in Vegas. He and I haven't seen each other since New York so we haven't seen each other, we haven't talked. We need to get together soon," White said at the post-fight press conference. And when Khabib's name came up, White perked up considerably.
"I'm pretty confident that is a fight Conor wants and I'm pretty confident that is the fight that Khabib wants so yeah I could see that happening."
Realistically, it's all just a matter of time. McGregor needs to get his bus attack legal issues out of the way, then we may get a superfight. It's that simple.
(Via MMA Weekly)