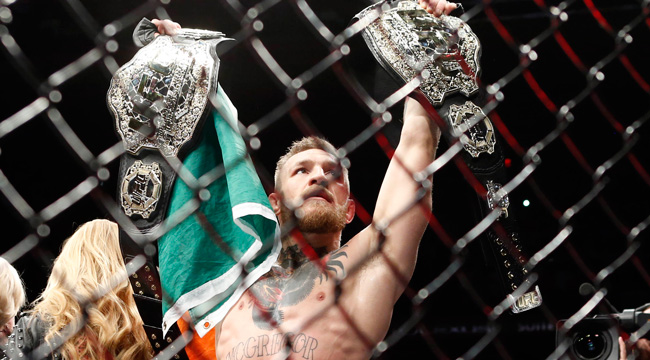 The UFC has been in a bit of a bind with its lightweight division due to the super-stardom of one Conor McGregor, currently in possession of the promotion's lightweight title. He won that belt in November of 2016 and hasn't defended it since, which is a problem since the UFC tends to like its champs to do that two or three times a year.
But does the UFC really have the stones to take away a second belt from its biggest draw? That's still not 100 percent clear, but UFC president Dana White talking like they "absolutely" will if McGregor's current timeline to return doesn't speed up.
"Conor has said he's thinking about coming back in September," White said following a UFC event in St. Louis. "If he comes back in September, that's almost two years. That can't happen. It's not fair to everybody else. I love Conor, respect Conor, love everything that he's done for this company. Everybody knows that. I say it all the time. But the belt would have to move on."

As for where it would move on to, there's a much hyped fight between interim lightweight champ Tony Ferguson and Dagestani wrestling powerhouse Khabib Nurmagomedov the UFC has been trying to put together for years now, with injuries or weight cutting issues nixing things every time. Finally getting them in the cage for a real title sounds like Dana White's current goal.
"You do Khabib versus Tony," he said. "We're working on that fight now and if and when Conor comes back, he would get the first crack at the title."
This all lines up with recent news that the UFC has rented out a stadium in Moscow in September, obviously with the hopes that Conor McGregor returns to face whoever wins between Ferguson and Khabib in Russia. I won't tip you off to who they probably would rather wins between the two, but I'm sure you can figure it out.