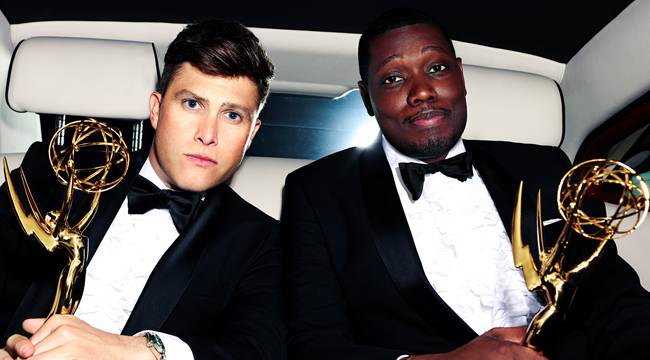 Well well well, the 2018 Emmys are in the books. It was a… weird ceremony this year, filled with strange bits and surprise winners and even more surprising non-winners. People showed up in costume. Rick and Morty gave an Emmy to RuPaul. Some guy just up and proposed to his fiancée in the middle of the ceremony. It was a whole thing.
And yet, even with all of that going on, it felt like kind of a snoozer. It's not easy to keep things light and breezy in a ceremony like this because there are a thousand awards to give out and the allotted three hours are already entirely too long (nothing should be longer than two hours, not this, not summer blockbusters, not even weddings, including the reception), but still. Maybe if they had cut it in the middle to let Henry Winkler jump over a shark again. I know the first time he did it on Happy Days it led to the whole "jump the shark" trope but… I really want to see him do it again, today, at his current age. So that's maybe a note for next year.
Below, please find the winners and losers for this year's festivities, as selected by me, a man who watched it at home while lying in bed eating pretzels. I have no right to judge anyone. And yet!
WINNER: The Marvelous Mrs. Maisel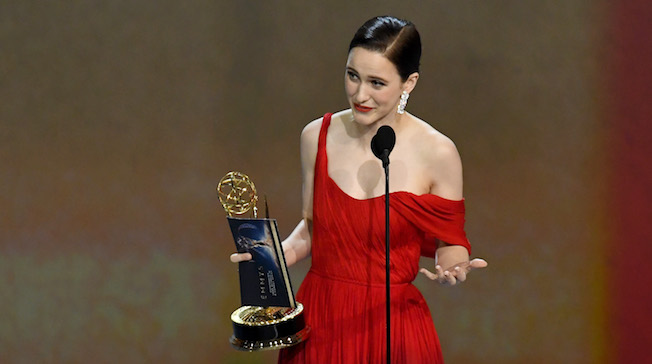 The night's biggest winner was The Marvelous Mrs. Maisel. The Amy Sherman-Palladino Amazon comedy took home awards for writing and directing (Palladino), best actress (Rachel Brosnahan), best supporting actress (Alex Bornstein), and best comedy. That's about as close to a clean sweep as you're gonna see. The only major comedy awards it didn't win were best actor and best supporting actor, the former because it had no nominee and the latter because Henry Winkler beat out Tony Shalhoub. What I'm saying is that its only loss of the night was to Henry Winkler, who finally won his first Emmy after decades of being a television icon and the nicest man alive. Plus, Shalhoub has those Monk Emmys already. I assume everyone involved will live.
Anyway, Mrs. Maisel is a very good and fun show and, in a vacuum, I am very pleased that it did so well because I am always pleased when good and fun things are recognized as such. My one qualm with it all is…
LOSER: Atlanta
Man, I really did not expect Atlanta to get shut out. I thought for sure there would be at least one win in there somewhere, probably Hiro Murai for directing the best and most-discussed episode of television this year, "Teddy Perkins." And I also had it penciled in as best comedy, although the writing was kind of on the wall there once Mrs. Maisel started its near-sweep. I don't know. Again, I'm not really going to argue any of the non-Murai-related awards because I didn't hate any of them individually, but it was just weird to see one of the year's two or three best shows get blanked.
It was an extra bummer there, too, when Bill Hader got up to accept his best actor award and hugged FREAKING TEDDY PERKINS because now I really want to know what would have happened if Glover won. Although I guess it's kind of perfect, Atlanta-wise, that we were left with a big unanswered question after something wild happened.
WINNER: Glennnnnnnnnnnnnnn
A few notes about the night's biggest shocker, the acceptance speech proposal by Oscars producer Glenn Weiss
There's an alternate universe where he loses this award and spends the rest of his life swearing to his friends that he was going to propose if he won and all of his friends roll their eyes like "Yeah, sure you were, Glenn."
I do love that a guy who was there because he produced an award show just threw a huge wrench into someone else's award show. Like, he knew he was taking the show off its tracks for a minute, and exactly the chaos that could cause, and straight-up did not care. That ruled.
I would have found this dumb and corny if an actor had done it but I have decided it was sweet and charming in this instance only.
So yeah. Shouts to Glenn.

LOSER: Saturday Night Live
All of the parts of the show that did not involve handing out actual awards (and some of the parts that did) were basically an SNL production. And they were… not great.
Colin Jost and Michael Che felt like a weird fit as hosts from the jump and that proved correct by the end of the monologue. It wasn't even the content of the jokes that was the problem. There are a few solid ones in there. It was just the whole energy of it. It was so low-key and muted and dry, which can work when you're behind a desk with edgy jokes, I guess, but not so much when you're standing on an empty stage in tuxedos. Hosting an awards show is tricky and mostly thankless because it's way, way easier to fail than succeed. I don't have any great solutions here for next year's show, either. I just know it probably wasn't a good sign that Chrissy Teigen's reaction to one of their jokes got a bigger laugh than any of their jokes.
Also not landing super-great: the bits! God bless Maya Rudolph and Fred Armisen, who have created some of my favorite comedic moments of the past decade, but that running bit with them never caught on. And the big opening number about diversity was nice and all but was then followed by one hour and thirteen minutes of awards given to white people almost exclusively. Not necessarily the fault of the people who wrote the bit, but it did not take it long at all to age poorly.
WINNER: Saturday Night Live
All of that said, SNL did take home the big variety show Emmy and got to trot out its current and former castmembers all night long, so it wasn't all bad. Especially the thing where the minds behind Stefon, Bill Hader and John Mulaney, both took home big deal individual awards. And Mulaney's suit was cool as hell. I don't know if a former writer's wardrobe decision counts as a win for SNL, but it's worth noting somewhere and this is as good a place as any.
LOSER: People who wanted to hear celebrities mispronounce other celebrities' names
Instead of having the presenters read the names of the nominees, the show opted for a brief video package displaying the category before bringing the presenters out. For the most part, this made sense and worked because it gave the presenters less to do. Quick bit, open the envelope, get out of there. And some of the bits were pretty good. Andy Samberg and Sandra Oh had great chemistry, I cackled at Benicio Del Toro's delivery of the "and we'll kill again" and the long awkward pause that followed, etc.
The downside was that I missed out on one of my favorite parts of award shows: Celebrities mispronouncing other celebrities' names. I love it when that happens. It's so awkward and magical. We got one this year when Angela Bassett dropped a "Rachel Bros-nah-hahn" on us, but I need more.
WINNER: Game of Thrones
Was it me, or was the drama side of the festivities kind of a letdown? The awards were spread across a few different shows, unlike last year when Handmaid's Tale won everything and people all did the "Is Hulu one of the big boys now?" dance. (Update: Not so much!) And even the premier category, best drama, felt anticlimactic when Game of Thrones won because the award went to a repeat winner that aired its most recent episode way back before last year's Emmys.
The thing is, though, no one will remember any of that in five years. Hell, most of us won't remember next year. We'll all just go to Wikipedia and be like "Oh wow, Game of Thrones won best drama again in 2018" and history will remember it as a multiple best drama winner. So congrats. Now hurry up with that last season. Not made of time over here.
WINNER: Matthew Rhys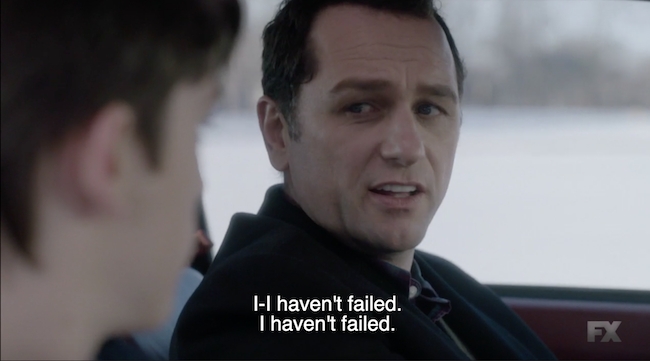 There was one very notable winner on the drama side, though: Matthew Rhys for The Americans. The Americans was one of the best shows of the last decade or so (if not longer), but had somehow never picked up an Emmy win in a major category. (It hadn't even been nominated until the last couple of years.) Seeing anyone from the show get recognized was nice, and seeing Matthew Rhys be the one was cool because his character spent the last two full seasons frowning and it was just nice to see him happy.
The only way it could have been better is if — apologies to Claire Foy, who was good on The Crown and deserved the award as much as anyone deserved theirs — Keri Russell had won best actress, too. I would have liked to see a husband and wife win Emmys for playing husband and wife on a show I liked very much. I also would have liked to see their characters' son on the show, my sweet boy Henry, grow up to be the world's first and only billionaire computer genius NHL All-Star, but we take the wins where we can get them.
LOSER: Anybody who was waiting to watch the final season of The Americans until after the Emmys for some reason
Whoops, hope you didn't want to know that Stan figures out the Jennings' secret and confronts them in a garage as they're preparing to flee without Henry! Because the Emmys managed to give all of that away in two five-second clips it aired during the nominations packages! Even though they could have chosen, like, anything else!
Tough break, pal. Snape kills Dumbledore, too. Just FYI.