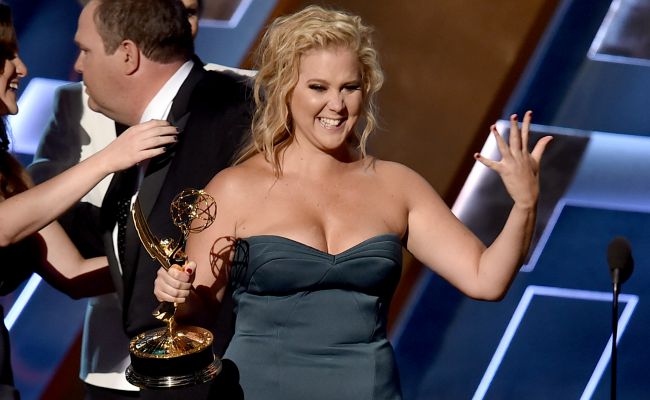 Amy Schumer's "overexposure" promo came from a very real place. While speaking at Comedy Central's upfront presentation in New York yesterday, the Trainwreck star, who's producing new projects from Rachel Feinstein and Kyle Dunnigan, predicted that she won't be famous for much longer.
"Do you guys know that I'm really famous now? I think it's gonna last another six months. Obviously, I've got behavioral issues." (Via)
Schumer was joking, but also, not?
"I didn't know what being famous would be like. You can imagine, and then it actually really blows. You're like, 'Boo-hoo,' and yes, I'm very rich now. Very rich. But now, I get to have things like: If I walk down the street in New York, people going, 'Oh my god, I never do this, but would you f*ck my brother?'" (Via)
Schumer has her Emmy and Golden Globe nominations, and adored sketch series, and beer commercials, and book that sold for $8-$10 million, and SNL monologue about baby butt holes, and friendship with the biggest actress in Hollywood, and she got tickets to Hamilton, which is really hard to do. But all she wants is to go back to playing baseball behind Larry David on Curb.
(Via USA Today)