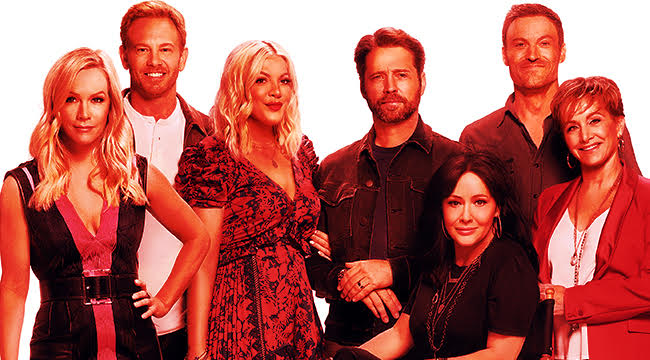 Sorry, Kevin Smith. The O.G. cast of Beverly Hills, 90210 released their revival that makes fun of reboots and remakes before Jay and Silent Bob Reboot delivered similarly themed goods. Sure, we're talking about two different genres, and the Aaron Spelling-ignited crowd doesn't have Ben Affleck or Chris Hemsworth in tow. Of course not, but Ian "Sharknado" Ziering is back with his biggest toothpaste smile, and oh boy, does the rest of the gang pile on the self-mockery as well. This is happening around the 20-year-mark of the series disbanding, and it's timely enough to serve as a commentary on how the current sea of reboots has sunk to ridiculous depths.
During its 1990s heyday, Beverly Hills, 90210 was an event show and a juggernaut. It ran for ten seasons of soapy shenanigans and spawned a franchise that includes Melrose Place, the adult-oriented series that everyone recalls for Heather Locklear-centered melodrama, and Models Inc., which only ran for one season (including a cruel cliffhanger). In the aughts, FOX launched reboots of both 90210 and Melrose with new casts — but (let's get real) no one really remembers those efforts — and there was a short-lived, Darren Starr-produced satire called Grosse Pointe.
Fast forward to 2019, and we're weirdly living in a world where Ziering could be considered the most successful principal cast member. Yes, that even includes the late Luke Perry, whose shadow looms large over the revival's premiere episode. He receives a few moments of silence, and it's clear that his former cast members care about him a great deal, but this project was also in the works without Perry before his death, so it should be mostly evaluated as such.
To be perfectly clear, this comfort-food revival is a fairly low-quality project. No one would ever expect high art from this franchise, so the stakes are not high, but BH90210 presents an interesting (and refreshing) perspective because it kind of hates itself. It's slightly obnoxious since it's very self-aware, but even that presumptuousness won't spoil the experience for those who want to check in on the gang. All of the main living players — Ziering, Jason Priestley, Jennie Garth, Tori Spelling, Brian Austin Green, Gabrielle Carteris, and even Shannen Doherty — signed on for six episodes (with two released for press screening), and they all play elevated versions of their real-life personalities. So there's no Brandon Walsh or Kelly Taylor to truly be found here, but Brandon and Kelly and Donna Martin and Steve Sanders still haunt the whole thing. Ziering has a freaking blast here, just rolling around in all of his excess.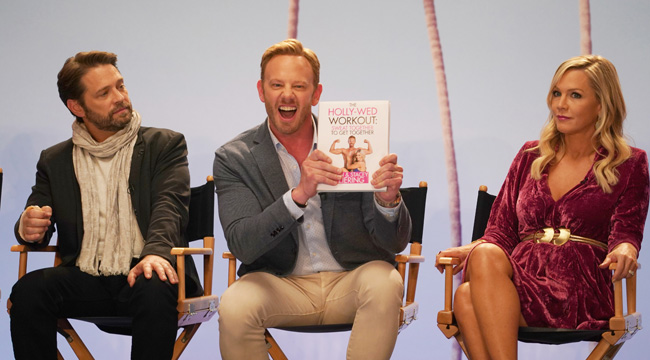 All except for Ziering and Spelling (who acts as the organizer of the revival after an initial reunion), these actors pretend that they really don't want to be here. When I say "pretend," I mean "read angsty, scripted lines," but there's a biting undercurrent of self-loathing from the talent and the revival itself. Sometimes that feeling is overtly expressed, though. "How the hell did we end up here?" Jennie Garth asks Jason Priestley at one point "Do you ever wonder what our lives would be like if we hadn't done that show?"
That's the inherent dilemma for becoming an actor on a long-running series or movie franchise. On one hand, these folks made nice bank, maybe enough that they wouldn't have to work again if they played safe and invested. On the other, they typecasted themselves. Only Perry was able to gain any semblance of a serious acting career after the show ended in 2000, and Ziering is famous for campy romps that involve him embracing an action-oriented version of Steve Sanders. Sure, Jason Priestley took up race car driving, but he's always been Brandon Walsh to the masses, and I could swear that from about season 5 going forward, he never enjoyed his character's "wise counselor who raises concerned eyebrows from behind the Peach Pit counter" vibe. Everyone else got the beachy soap opera stories or, like Perry, also made movies about slaying vampires, but Priestley often seemed miserable in his role.
Well, Priestley knows what people were thinking, and he brings that energy back while channeling a hair-trigger temper, and others embrace their own supposed reputations from back in the day while playing upon their own updated, real-life happenings. So Brian Austin Green's sweet David Silver gets crossed with Green's real life Mr. Dad persona to a wife (not Megan Fox) whose career potential vastly exceeds his own. And so on, with none of them (except for Spelling, who doesn't shy away from her real-life financial woes and needs the money) wanting to get sucked into a full-on revival. They engage in fights and sling insults aplenty, and they bond and have sexy times. Fabulously, everyone succeeds in not looking thrilled to see Shannen Doherty show up and bounce off those rumors of her being a true nightmare on the set.
The result ends up being an intentional mess and one that embraces all the trappings of the blasted trend of sequels, remakes, and reboots. One truly misses Luke Perry while watching, but overall, it's a pleasant revisit into this world. I'm not sure that the welcome won't wear out before the combined runtime of six episodes, but the first episodes blend the absurd and the realistic, along with the stupid and clever aspects of what made the 90210 crew so watchable. There are a few surprise cameos, but mostly, what you see is what you get here. Give it a whirl if you watched the original, and good luck with getting that theme song out of your head sometime in the next 20 years.
FOX's 'BH90210' debuts on Wednesday, August 7.