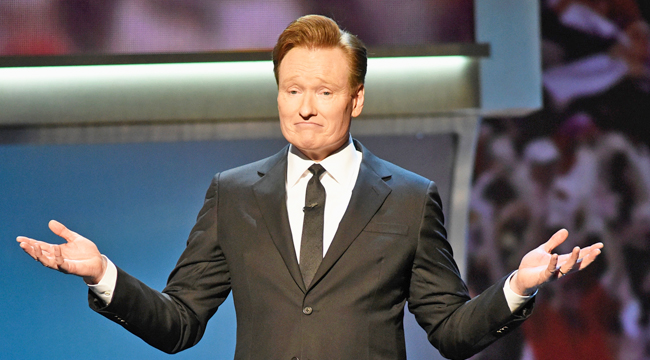 The new streamlined, half-hour, interview-focused Conan is set to return this Monday, January 22nd, as Conan endeavors to change late-night television again, a little more than 25 years after he debuted as host of Late Night. Conan has been (darkly) philosophical about his legacy ahead of his rebooted show's launch, but it's worth remember how a former SNL writer and The Simpsons writer — who had never really appeared on television before (except to put Tom Hanks 5-timers jacket on him during an episode of SNL) — managed to land one of the most coveted spots in late night.
Strangely enough, the story involves Lisa Kudrow, the Friends star who Conan O'Brien used to date. Kudrow, in fact, credited Conan O'Brien for being a crucial motivator in her jumpstarting her own career. As it turns out, that encouragement cut both ways.
Back in 1993, Conan O'Brien was a fairly unknown comedy writer in the broader world, although he had helped to evolve The Simpsons and his imprimatur remained on that show even after he left. After Letterman announced that he'd be leaving Late Night for his own show at CBS, Conan wasn't even in the mix. However, because of the way he came up with sketch ideas, he was well-liked by Lorne Michaels, who was running point on finding a replacement for Letterman.

Initially, Lorne Michaels approached Conan only to become a producer on Late Night, but O'Brien wasn't "thrilled" to take on a producer's role for a show that had not yet hired a host, so he declined, as Conan told Dax Shepard in a recent Armchair Expert podcast. However, Conan's agent Gavin Polone (who would later drop all of his clients except Conan to become a film and television producer of shows like Curb Your Enthusiasm) brought Conan's name up with Lorne Michaels as a potential host. With SNL writer Jim Downey as a big booster, Conan managed to get an audition.
Conan went into the audition relaxed because he was under no illusion that he would land the job. "Could this really happen? I'm 29 years old," he told Shepard. "They're replacing the biggest star on television. I have no on-camera experience. I'm not camera-ready in so many ways. I'm not ready in any way. If you watch my audition, I'm incredibly relaxed, because I thought that this isn't going to happen."
The irony, however, is that he got "very scared" after the audition, because he recognized in the room that everyone had given him a, "Wow, that-was-good vibe, and I was retroactively frightened. What did I just do?"
Anyway, a couple of weeks went by, where NBC was saying, "we can't give it to this kid." The network eventually talked to Gary Shandling about taking the spot, and Conan got a call from Lorne Michaels while he was in the car with Lisa Kudrow. "It's not happening," Lorne said. "You're going to get something out of this, but you're not going to get [Late Night} because that's going to go to Gary Shandling."
After Conan hung up the phone, however, he had a conversation with Kudrow, where the two pondered if Shandling taking over Late Night was realistic. "Shandling is not going to do that," he said to the future star of Friends. "It doesn't make sense to me." At the time, Shandling was doing The Larry Sanders Show, which mocked late-night shows, so "why would he gave that up?"

After that conversation with Kudrow, Conan was subsequently brought in for "some meeting" unrelated to him being the host of Late NIght, and "something got into" Conan.
As it turns out, even after he was rejected, Robert Smigel and Conan had been talking about what this show should be. He got into this meeting, and part of Conan wanted to tell them that he was just going to pack it up and go back to The Simpsons. The other part of Conan, however, took over.
"I was like, 'OK. Here's what this show needs to be. Letterman did irony. We have to go past that … we'll have cartoons, and music, and a Pee Wee-Herman sort of sensibility,' and I swear to God, this is never talked about but in that meeting, suddenly I was in a room with a bunch of people who didn't know what to do, and there was a 29-year-old in the room saying, 'This is what we're doing.'
As Conan relays to Dax Shepard, after he left that meeting, "I remember talking to Lisa Kudrow and saying, 'I think I just talked myself into that job. Why the f**k did I do that?'"
And the rest, they say, is history. Kudrow confirmed her role in those events nearly 20 years later, telling USA Today, 'I was very encouraging. I remember saying, 'If Letterman's leaving his late-night show, he's irreplaceable. So better it be someone we don't know at all.' So I thought he should look into it."
Not only did Conan "look into it," that 29 year old guy told them how they should do it and, in doing so, won the job for himself, launching in 1993 with an episode that can best be described as punk-rock art. It hasn't been a perfect run, of course — he won and then lost The Tonight Show, and he had a terrible experience early on with the worst guest he's ever had— but it's brought him to 2018, where he's on the precipice of changing the late-night landscape once again.
(Via Armchair Expert)