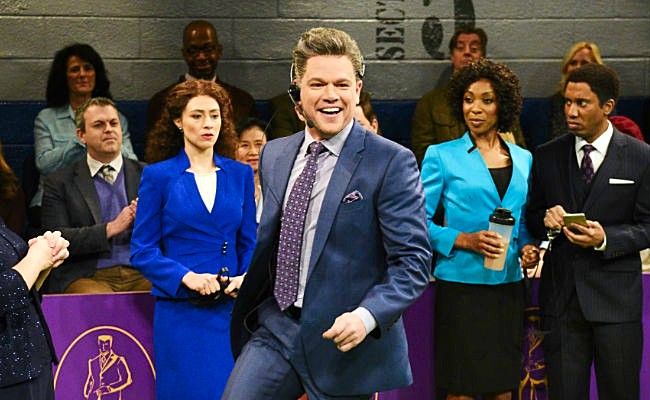 As fun as Aquaman star Jason Momoa's Saturday Night Live hosting debut was last weekend, Brett Kavanaugh impersonator Matt Damon's turn as the guest host for the last episode of 2018 turned out to be the season's best. The ninth entry in the 44th season was equal parts silly and warm, but as many viewers and critics were quick to note from the opening monologue, it was also a surprisingly sweet episode. As a result, Damon's second turn as host resulted in something the show has sorely been missing: humor.
For an episode led by yet another white male host (of nine episodes so far, season 44 has only featured two female hosts), Damon's also went out of its way to highlight the show's featured and up-and-coming female players. Kate McKinnon, per usual, was given plenty of time to shine throughout, but so too were Leslie Jones, Cecily Strong and Aidy Bryant. This was especially the case during the "Weezer" and "Oscar Host Auditions" sketches, both of which are discussed below.
Sure, there was another politically-themed cold open centered around Alec Baldwin's tiresome Donald Trump impression, but for the most part, Damon's episode this weekend was more about being silly than it was about providing commentary, satirical or otherwise. (That's not to say there wasn't any of this, as the "Oscar Host Auditions" sketch proves.) It was just a great way to close out the year before the holidays and a welcome departure from business-as-usual at Studio 8H.
Here are the key moments from last night's show.
A sweet, simple opening monologue
His surprise Kavanaugh cameo notwithstanding, this year's Christmas closeout was only the second time that Damon had ever hosted SNL. The 48-year-old actor made sure to remind the audience of this fact throughout the opening monologue, but not for the sake of boasting. "I'm here just because I want to be and I certainly didn't come all this way to suck," he says. "But if I do, at least my movie won't suffer because I don't have one coming out." All jokes aside, it's Damon's recollection of watching SNL with his late father, and the toast he gives to families watching at home, that make the moment.

Matt Damon is a daddy and Kate McKinnon has no name
Damon's family toast is not only sweet but also indicative of the sketches and gags that follow. Per usual, there's plenty of innuendoes to go around, but this episode almost feels like it was designed to appeal to the biggest age demo possible. The "Westminster Daddy Show" bit is a prime example of this. Sure, there are a handful of blatant sex jokes, but the sketch otherwise focuses on the silly idea that posits the existence of a Westminster dog show for daddies. Damon's pairing with McKinnon (who declares her character doesn't have a name at the end), and Bryant's casting as the competition judge, is pure joy.
The search for an Oscars host continues
Speaking of joy, SNL digital shorts and fake commercials are more often than not the show's bread and butter. Maybe that's why this episode (and this season have) featured so many, but the "Oscar Host Auditions" with Damon and the majority of the SNL cast was definitely a highlight. The host's turns as Chris Hemsworth and Matthew McConaughey were funny enough, but Bryant (Hannah Gadsby, Amy Sherman-Palladino), McKinnon (Michelle Wolf, Ellen DeGeneres) and Strong (Rachel Brosnahan) easily won the bit.
Christmas dinner gets ruined by… Weezer?
When done right, weird is good, and I can't really think of a better word to describe the "Weezer" sketch, during which three couples argue over the merits of the band Weezer. Decked out in black-rimmed glasses and a flannel shirt, not unlike the band's lead singer Rivers Cuomo, Damon's character vehemently defends them (and their Toto's "Africa" cover). Jones's dinner guest, meanwhile, really digs into the debate despite her husband's (Kenan Thompson) protestations. It's odd, awkward, cringe-worthy and great.

Matt Damon + Cecily Strong = good
This episode featured a smorgasbord of one-off characters and combinations, but the real MVP was Damon's frequent pairings with Strong. In the above example, the pair played lounge singer Dianne Gellerman and her accompanyist Sonny, who mixed increasingly rapid Christmas songs with personal interjections about familial fights and other nonsense. In the second, they played a couple resting by the fire on Christmas and expounding upon why it was so wonderful. (It wasn't.) Parents everywhere surely felt this one.
***
So there you have it. Despite an otherwise lackluster season that, sadly, has repeated many of the same writing and pacing issues as its immediate predecessors, SNL's 44th managed to close out 2018 with a genuinely fun Christmas episode. Baldwin's Trump and equality issues remain a prominent problem, of course, and there's no guarantee that this season will suddenly amend these come 2019's first episodes, but at least SNL managed to make a well-rounded, funny show this weekend.