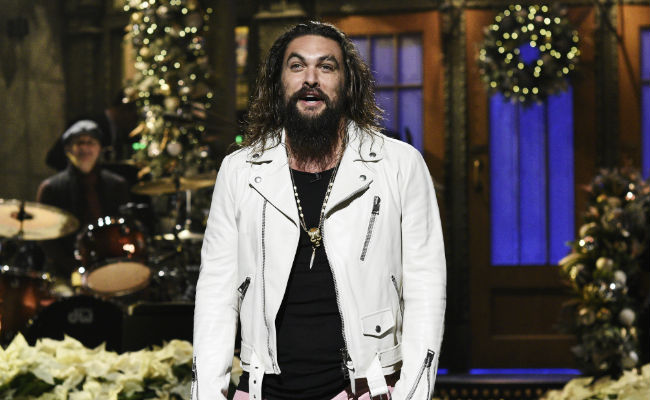 If you follow Saturday Night Live or Aquaman star Jason Momoa on social media, then you already know how excited the actor was to be hosting this weekend's show. He posted several photos and videos on Instagram documenting the week before broadcast, starred in a few short sketches to promote the episode, and even kept a video diary that SNL published on its YouTube page. So after all of this, how did Momoa's first time as host pan out on Saturday?
It was fine. Considering the hit-or-miss nature of SNL's 44th season so far, that this weekend's entry would be any different was highly unlikely. Co-head writers Michael Che, Colin Jost and Kent Sublette haven't had the best track record for producing consistent episodes in the past two years. So even with the arrival of someone as excited and larger-than-life as Momoa — a man whose size, excitability and goofiness should be easy fodder for comedy writers — SNL couldn't make it work all the time.
However, when Momoa's SNL entry did come together, however, it came together with a bang. From his enthusiastic opening monologue to sketches as weird as "An Extra Christmas Carol," the Game of Thrones alum put 110 percent into everything the show asked of him. Because of this, Momoa practically saved what would have been one of this season's more boring episodes. Hopefully, be it to promote the inevitable Aquaman sequel or another future project, the actor will get the chance to host SNL again.
Here are the key moments from last night's show.
The barefoot monologue
Who bounds onto the Studio 8H stage while barefoot? Jason Momoa, that's who! The SNL host launches himself into his hosting duties with an opening monologue that acknowledges his physicality ("I am so muscular to be hosting Saturday Night Live. Huge!") and his love of the show. "It is such an honor to be on this stage," he says. "I am an SNL super nerd dork. I've been watching this my whole entire life." The rest of the monologue, '70s disco dance included, is fine, but Momo's enthusiasm is what sells it.
Your "Elf on the Shelf" has seen things
Some people like the annual Christmas tradition of placing The Elf on the Shelf-inspired dolls in places for others to find. Some think it's weird. Either way, it provides the writers of this sketch with ample material. Seeing Momoa dressed up at the titular elf, beard an all, is worth the price of admission, but the ongoing bit about what his assigned kid has been up to is comedy perfection. What's more, Momoa's acting chops are on full display, which makes the bit that much funnier.
Khal Drogo, public access talk show host
Of course, SNL was going to do at least one joke or sketch having to do with Game of Thrones with Khal Drogo himself on the program. Hence "Khal Drogo's Ghost Dojo," in which Momoa's deceased character interviews other deceased characters from the popular HBO series' steadily-increasing body count. One of Saturday's longer bits at just over six minutes, the sketch drags on a bit too long as nearly every working SNL cast member makes a cameo. Even so, the concept is great and Momoa really commits to it.
The White House gets an Empire makeover
The Trump-themed cold open didn't include Alec Baldwin's recurring impression of the president, though Robert De Niro's Robert Mueller did stop by. Yet the more memorable political sketch from the night was actually a pre-taped short titled "Them Trumps." Featuring Kenan Thompson's "Darius Trump" take on the president, the Empire parody made for one of SNL's better Trump segments in some time. Though without Momoa's involvement, and considering some of its more dated references, "Them Trumps" felt like a holdover from a past episode.
Michael Che brings up Kevin Hart
In less than a week, comedian Kevin Hart was tapped to host the 2019 Academy Awards telecast, then asked to bow out after he was criticized for homophobic jokes and tweets. Nick Cannon, Snoop Dogg, and other prominent African-American entertainers have come to Hart's defense, including SNL's Michael Che, who addressed the story on "Weekend Update."
"If Kevin Hart isn't clean enough to host the Oscars," he quips in the segment, "then no black comic is. The only black comic I know who's cleaner than Kevin Hart is booked for the next three to 10 years." Cue Bill Cosby's photo.
***
The moral of the story is, Jason Momoa deserves another shot at hosting SNL. His first appearance on the program wasn't the home run that many — myself included — were hoping for, but not because of anything he did or didn't do. Rather, the show's longstanding issues with pacing and consistency are largely to blame for what was ultimately an uneven and occasionally boring episode. What saved it was Momoa's sheer screen presence, so just imagine what his second stint could potentially look like.