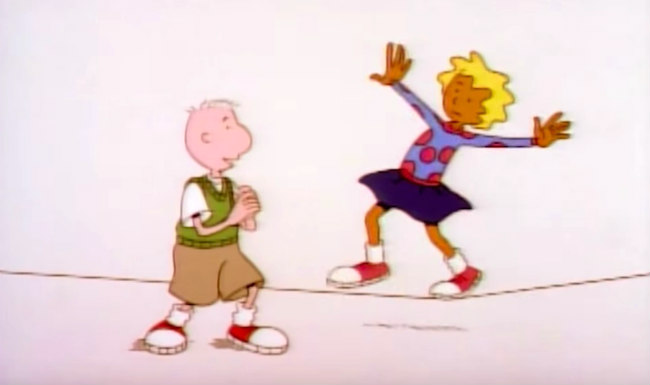 Most childhood entertainment does not age very well (have you watched Ferngully lately? Yikes), but a shocking number of Nickelodeon shows from the 1990s do. Rocko's Modern Life is still hilariously profane, Doug is still emotionally intelligent, Are You Afraid of the Dark? still brings the low-budget chills, and Legends of the Hidden Temple, well, it's still fun mocking the idiots who can't put together that stupid monkey shrine. If you're looking to scratch your nostalgic itch with a random episode of Clarissa Explains It All at 3 a.m., Nickelodeon is here with NickSplat, a new streaming video on-demand channel.
VRV [has] partnered with Nickelodeon to become the premiere launch partner for NickSplat, available as an OTT channel on VRV starting today. NickSplat is a multi-screen destination that includes Nickelodeon content from the 1990s and beyond across television and social platforms. Nickelodeon collaborated closely with VRV to create a NickSplat-branded streaming channel that features a rotating selection of nearly 30 series of Nick's most popular nostalgic animated and live-action programming. (Via)
NickSplat, which can be purchased for $5.99 per month, is available on VRV or on Xbox One, PS4, Apple TV, Roku, Fire TV, Android TV, Chromecast, Android, and iOS. (More information can be found here.) The full list of series is below.
AAAHH!!! Real Monsters
All That
The Amanda Show
The Angry Beavers
Are You Afraid of the Dark?
CatDog
ChalkZone
Clarissa Explains It All
Double Dare 2000
Doug
Guts
Hey Dude
Kablam
Kenan & Kel
Legends of the Hidden Temple
The Mystery Files of Shelby Woo
Nick Arcade
Rocko's Modern Life
Salute Your Shorts
The Wild Thornberrys
Notable omissions include Rugrats and Invader Zim, both of which are returning to Nick, as well as Hey Arnold!, which already did.
Sorry not sorry if the Hey Dude theme song is now stuck in your head.
(Via Collider)