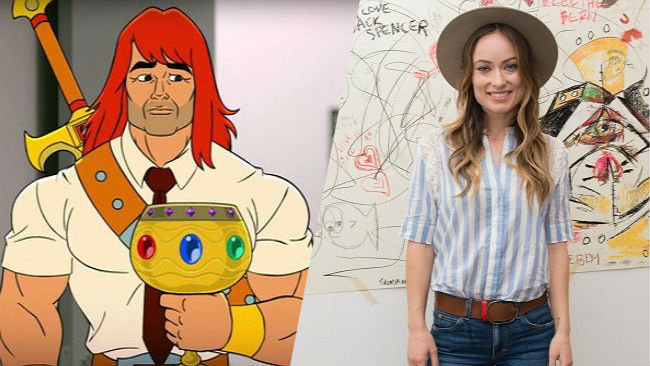 You know that saying about art imitating life? Hopefully that doesn't happen for Olivia Wilde and Jason Sudeikis.
The duo, who got engaged three years ago and currently have one son (Otis) with another child on the way, are testing their personal relationship by taking it to the office — more accurately, the sound studio. Wilde's set to play her fiancee's ex in his new Fox hybrid live-action/animated comedy Son of Zorn, set to air this fall. The show follows Sudeikis' Zorn, a cartoon Barbarian dad who journeys from his fantasy village to reconnect with his non-animated teenage son living in California.
If you haven't seen previews for the series, we highly recommend you check it out. It's all kinds of crazy (in a good way) and it's one of the riskier shows on Fox's fall lineup.
Entertainment Weekly reports that Wilde will be making a cameo sometime in the show's first season as Radiana, Zorn's animated ex-girlfriend from their homeland of Zephryia. The two have a toxic past but all of that is forgotten when Zorn needs a date to the engagement party for his non-animated ex-wife Edie (Cheryl Hines) and Craig (Tim Meadows).
With so many couples in Hollywood calling it quits, it's nice to see one with their priorities straight. Though marriage is a long way off for the pair — Sudeikis has made it clear they won't tie the knot until marijuana is legalized in every state — you don't need a piece of paper to keep your relationship solid. As they say, the couple that voices animated fantasy cartoons together, stays together.