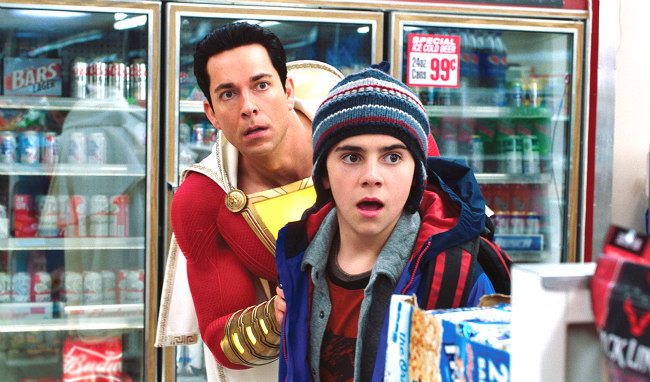 The tone of DC Universe movies has been all over the map since its first entry, Zack Snyder's Man of Steel, but it seems that Warner Brothers have finally zeroed in on what works for the studio with the more fun-spirited Wonder Woman, the off-the-wall Aquaman, and now the more light-hearted, funny, and kid-friendly Shazam! (except for the unnecessarily dark first act and the gruesome boardroom scene). Shazam! scored a very tidy $53 million in its opening weekend (plus $3 million in previews), and while that is less than all the other DC Universe films, this one was also not expected to do $100 or $125 million in its opening weekend, especially with a relatively cheaper cost ($80 million) and no A-list star power (Zachary Levi is the biggest star of the film, and he's still best known for Chuck, a television action comedy that ended in 2012).
Shazam! managed to beat expectations, while getting some help from fawning critics (91 percent on Rotten Tomatoes) and a lot of love from audiences, who gave it an A Cinemascore. Probably the closest comparable film to Shazam! is the more kid-friendly Marvel entry, Ant-Man, which opened with a similar $57 million (and a bigger budget of $130 million). Like Ant-Man, I would expect Shazam! to top out in the $150-$175 million range, domestically. The film is also doing swift business overseas this weekend, especially in China.
In at number two is the remake of Stephen King's Pet Sematary, and the results there are a mixed bag. It opened with around $24.2 million, which is the second best opening ever for a Stephen King film. On other hand, it's a fraction of what It opened with in 2017 ($123 million). It's obviously also well off the pace of Halloween, which opened last year with $76 million. It's more in line with the Evil Dead remake in 2013, which opened with $25 million on its way to $54 million. That would not be a bad showing for Pet Sematary given its $20 million price tag, but we've also seen Jason Blum do a lot more with a lot less. This is more in line with Blum's The Visit, which opened with $25 million on its way to $65 million, but that movie only cost $5 million to produce.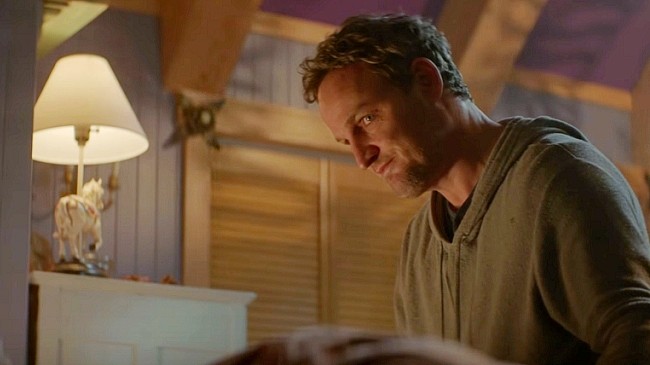 Reviews for Pet Sematary have been fine (61 percent), although the C+ Cinemascore does not exactly suggest word-of-mouth hit. In fact, it'll probably end up with something close to the $57 million that the 1989 original made (that's closer to $130 million, however, accounting for inflation). That movie also spawned a sequel starring Edward Furlong. We will never speak of it again.
There was one other new entry in the top ten, as well. Best Of Enemies starring Taraji P. Henson and Sam Rockwell earned $4.5 million. Reviews were not great (50 percent on Rotten Tomatoes). However, the audiences that did turn out seemed to enjoy it (it received an A Cinemascore, while women over the age of 35 gave it an A+).
The rest of the top ten were all holdovers, beginning with Dumbo, which took a steep hit in week two with a 60 percent drop, earning $18 million to bring its 10-day total to $76 million. That's not terrible, but it's not great, either, for a film that cost $170 million to produce. It is, however, doing reasonably well overseas ($137 million, so far). Meanwhile, in its third week, Jordan Peele's Us added another $14.5 million to bring its total to $153 million, as it approaches the $176 million earned by Get Out.
With $12.6 million, Captain Marvel took the fifth position and it's now earned $374 million in 5 weeks and has a few more weeks to pad those stats before Avengers: Endgame arrives in theaters on April 24th. The Brie Larson film has also crossed $1 billion worldwide, making Anna Boden — who directed along with Ryan Fleck — the first woman to cross the $1 billion mark at the worldwide box office.
Five Feet Apart landed at number seven with $3.9 million and $41 million, so far. Unplanned now has $13 million in the bank after its second weekend tally of $3.8 million. With $2.2 million, Wonder Park is about to close up shop at the box office with a miserable $42 million on a $100 million budget (and worldwide receipts have not bailed it out). Finally, with $2 million, How to Train Your Dragon: The Hidden World gets to enjoy one more week in the top ten, having now earned $156.7 million stateside and $504 million worldwide.
Shazam! doesn't get much time to spend in the number one spot before it's challenged next week by several newcomers. The Hellboy remake probably has the best chance of unseating Shazam!, although I wouldn't put a lot of money on that bet. The stop-motion animated film Missing Link looks absolutely terrific, which might be to its detriment with mainstream audiences. While Shazam! is the superhero version of Big, Issa Rae and Marsai Martin will star in Little, which has a premise that is essentially the opposite of Big. Finally, the adaptation of the YA hit After will open on 2,000 theaters.
Source: Deadline, Box Office Mojo