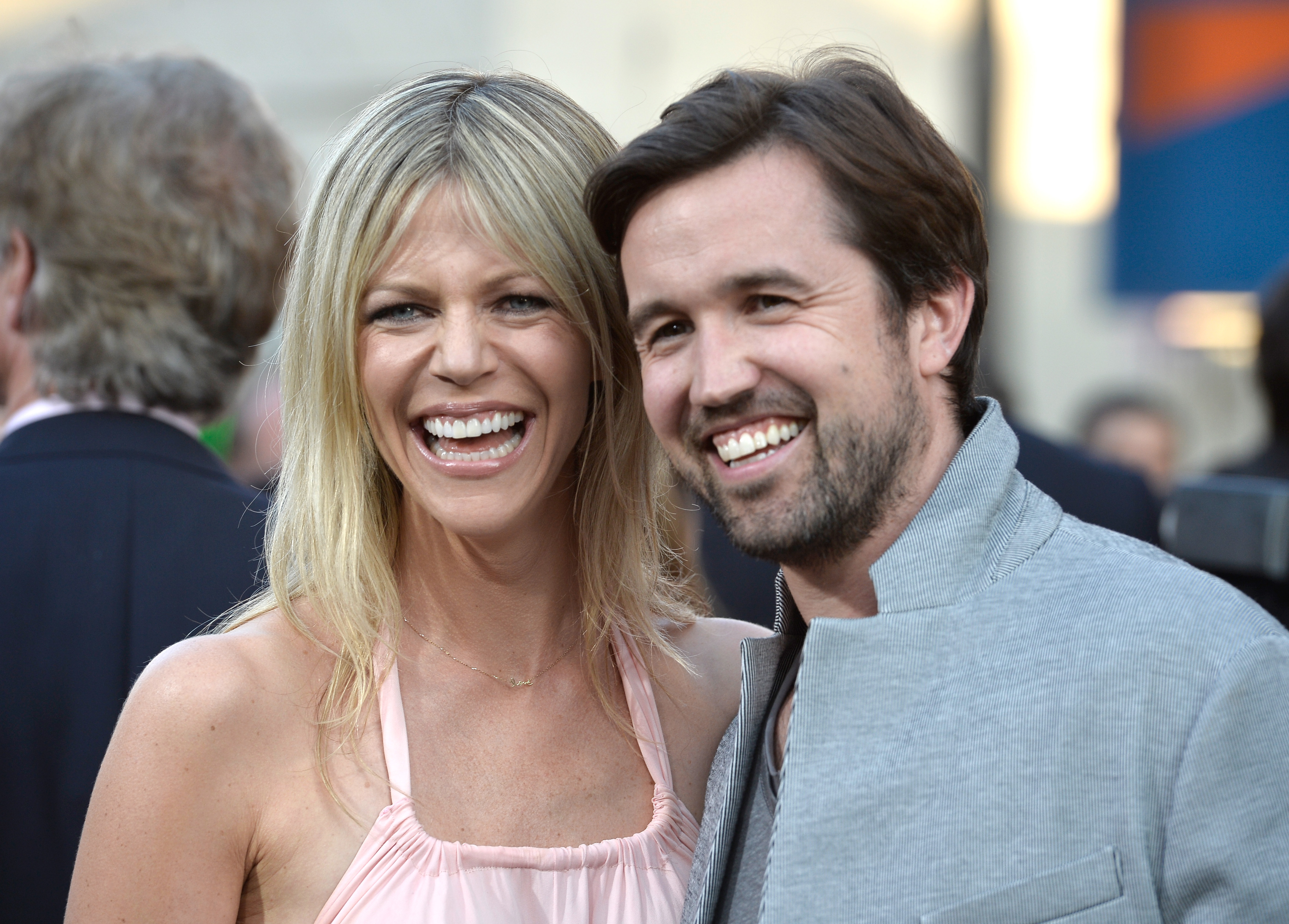 In a surprisingly intimate 2015 interview of WTF with Marc Maron, It's Always Sunny in Philadelphia writer, creator, and star Rob McElhenney revealed himself to be one of the most extraordinary people in the television industry. He's just a good solid dude from South Philly who had an amazing upbringing with an unusual but loving family, a Catholic school upbringing, and a bizarre college education. Also, his first roommate in Los Angeles moved out to live with Mira Sorvino, who he later married (they remain married and have four kids).
One topic that McElhenney did not really get into in that podcast, however, was how he and his wife — Sunny co-star Kaitlin Olson — evolved from co-workers to romantic partners. Thankfully, Olson addressed that very topic in a recent episode of Armchair Expert with Dax Shepard. Shepard and Olson are long-time friends dating back to their work together on The Groundlings in Los Angeles, where they frequently wrote skits that entailed them making out and occasionally took ecstasy and harassed seals on the beach. In other words, they've been close for nearly 20 years, which also means that Shepard is also close friends with McElhenney, so much so that Olson often jokes that Shepard loves her husband more than she does.
During the course of Shepard and Olson's nearly two-hour conversation, the subject naturally turned to Olson's relationship with McElhenney and how the two became romantically entangled. It "definitely" didn't happen "right away," Olson told Shepard. But when I met him, she continued, "he was just so easily in charge. He has a vision, and he's a wonderful boss and he's a collaborator but at the end of the day, he's very comfortable taking in information and just making a decision … he has more discipline than any person I know."
Olson admitted that she found his "internal confidence" attractive and the fact that he was "just a good dude. He wants everyone to be happy. His mom is gay, his brother is gay, and I think that probably helped but he just let everyone do what they wanted to do and as long as they didn't hurt people, he was fine with it."
At any rate, Olson was mum about the exact details of how their working relationship involved into a romantic one, except to say that it involved a Fox party, alcohol was involved, and she made a move on him. "It was just awkward. Awkward moves," she said, adding that she remembered going to a game night with her co-stars and she just kind of "backed up in between his legs, and moved myself into his lap, and he was like, 'What are you doing?' That's the other thing about Rob. He's very direct. He's honest to a fault."
They didn't fall madly in love at first, however.
"It took him a while to realize … it was a very interesting dynamic. Like, once I fell in love with him, I realized that I was deeply in love with him in a way that I hadn't been in love with him before. And then we started secretly dating, and he really just wanted to be casual, but I had this hubristic confidence that this person is completely in love with me but he has no idea. It wasn't even a game. It was just like, 'you have no idea that you are completely in love with me. You want to have it casual and just date, and yet you're calling me every Friday night and you're spending the night on Saturday night and you're seeing me on Monday morning.'"
The catch is, it was all a secret, even from their It's Always Sunny in Philadelphia castmates. "It was great," Olson said, "because he was living with Glenn [Howerton] at the time, and this was all a secret, and Glenn would come to work jealous. He was just like, 'Rob is just like out there at bars just like meeting people and every bar he goes to he meets someone and spends the night [with her]."
Moreover, it remained a secret from the cast for "all of the second season," Olson told Shepard. "It was so much fun. And terrifying. We were so scared they were going to hate us."
Eventually, however, they let the rest of the cast in on the secret and got married several years later. They now have two kids together as they enter their tenth year of marriage.
It's also worth noting that, ahead of this year's season of It's Always Sunny, McElhenney has been working out a lot in order to get buff for the upcoming storyline, and if you are wondering how Olson feels about that, she tells Shepard, "It's not my favorite thing. I liked him better as Fat Mac. He was hilarious."
It's Always Sunny in Philadelphia returns to FXX on September 5th.