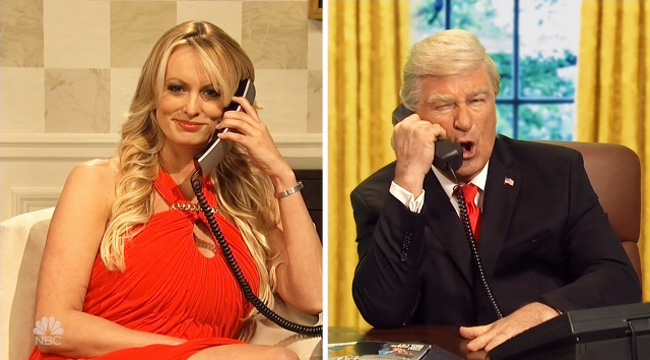 Ben Stiller became the latest guest star to play a major member of Team Trump on SNL back in April. He and Robert DeNiro parodied their Meet The Parents roles as Coen and Robert Mueller respectively. This time around, Stiller is joined by a load of guests and cast members — and the very real Stormy Daniels — to make some questionable phone calls to Team Trump.
Not only is Stiller back, sparring with Alec Baldwin, Martin Short as Trump's doctor, and Kate McKinnon in her latest Trump role as Rudy Giuliani. Scarlett Johansson also returns as Ivanka Trump, spelling doom for a very nervous looking Jared Kushner played by Jimmy Fallon. It's all fun and par for the course for SNL cold opens this season, but the final special guest actually turns out to be the real person at the center of the entire scandal.
Stormy Daniels picks up the phone and an SNL moment is created from something that probably would've gone down as more fun with Trump. The actual content doesn't matter because it's Stormy Daniels on the phone with Donald Trump on national television. It's a big surprise that sets the stage for these final few episodes of SNL's season.
(Via SNL)