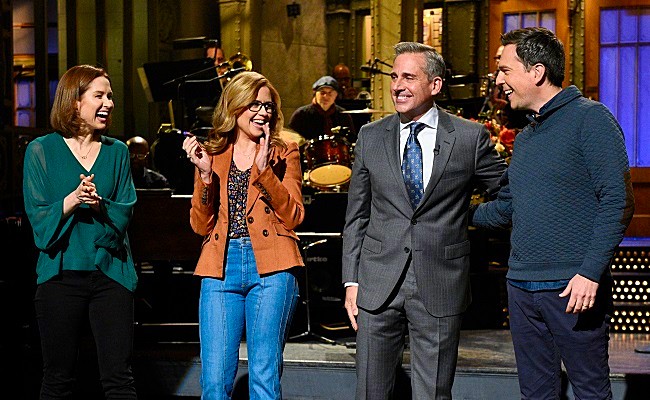 Steve Carell's triumphant return to Saturday Night Live this weekend was surprisingly rife with more duds than successes. Whenever The Office alum and the cast members did succeed, however, they elicited some of this season's strongest laughs of the season. That's no small feat, for at a time when Michael Che, Colin Jost, Kent Sublette and the rest of the sketch show's writing team seem to be struggling with the precise direction(s) they want to take things in, Carell's episode was one of the season's most unified.
Not that that's always a good thing, as consistency can sometimes be a sign of laziness. (For example, the writing staff had the 56-year-old actor playing disgruntled fathers in at least three separate sketches, and most of them weren't that great.) Even so, what saved SNL this weekend from utter failure was largely a mixture of Carell's commitment to every ridiculous little thing the writers threw at him and many of the cast members' similar devotion to selling what they were given.
This was especially true for Kate McKinnon and Cecily Strong, who killed in the "Voter Fraud" cold open, and younger cast members Mikey Day and Heidi Gardner, who regularly stole scenes from their respective sketches. Established acts like McKinnon, Strong and Leslie Jones are so central to SNL's current image that they likely don't have to fight for airtime as much as fresher faces like Gardner and Day. Thankfully, the writers for this week's episode (and Carell himself) gave them plenty of room to shine.
Here are the key moments from last night's show.
McKinnon and Strong conquer the cold open, again
While SNL's continued attempts at political comedy don't always hit the mark, McKinnon and Strong's impressions of Fox News personalities Laura Ingraham and Jeanine Pirro are often the exceptions. The pair's "Caravan" cold open from the Jonah Hill-hosted episode helped launch one of this season's best episodes to date, which is probably why the writers decided to put them first again with this weekend's "Voter Fraud" opening sketch. It didn't quite have the same effect, in terms of propelling what came after, but it's good nonetheless.

The non-reunion The Office reunion
As much as fans of The Office have been pining for a possible reunion, a la Will & Grace or Fuller House, Carell and others have regularly poo-pooed the idea in the press. So of course the SNL team decided to make these constant questions a fixture of Carell's opening monologue, which was almost immediately interrupted by cast members posing as the audience. When that didn't work, fellow The Office alums Ellie Kemper, Ed Helms and Jenna Fischer showed up to put more pressure on Carell. It's not quite the reunion you may have wanted, but it's still fun to see the four of them together.
In space, no one can hear you laugh
SNL is at its best when the writers and cast are able to create, develop and run with a single silly idea that actually has nothing to do with current events. Case in point, "Space Station Broadcast," which cast Carell, Jones and Day as astronauts aboard the International Space Station. While they answer students' questions about life in space, an airlock breach results in several frozen monkeys, a cat with its face sucked in and a special appearance by McKinnon. It's a wonderful sketch, and surely one of the season's best so far.
Jeff Bezos gets even
When SNL does get political, it usually saves such material for the cold open or "Weekend Update." Occasionally, however, they will go ahead with pre-taped shorts that usually take the form of fake commercials. "HuckaPM" from Hill's episode is a good example of this. So too is "Message from Jeff Bezos," in which a bald cap-wearing Carell channels the Amazon billionaire in a promo. It starts by poking fun at the company's decision to set up shop in Queens and just outside Washington D.C., but it also serves as a series of insults directed at President Donald Trump.

Heidi Gardner is a national treasure
"RV Life" isn't one of this weekend's better sketches, but what makes it worthy of inclusion here is the fact that it puts Carell, Day, McKinnon and Aidy Bryant in supporting roles behind Gardner, who joined SNL last year. As one of the show's youngest cast members, Gardner doesn't always get time in every episode, but her role as an increasingly unhappy wife and mother in "RV Life" is a resume-dominating performance. Her character hates the fact that her husband, played by Carell, has sold everything to make them live in an RV, and the awkwardness that results is as cringe-worthy as it is funny. Put Gardner in more things, SNL.
***
Frankly, that's the biggest takeaway from this weekend's SNL — the show doing more to feature its in-house talent. Sure, Carell reuniting on stage with Kemper, Helms and Fischer was fun, and yes, watching the comedy and drama actor yell at things was enjoyable. Yet as important as each episode's guest host is, the series shouldn't forget to use its own cast members — especially those who just came on. McKinnon, Strong and Jones continue to be great and we hope they don't leave SNL anytime soon, but Bryant has made a name for herself in recent years, and Day and Gardner are forces to be reckoned with. Hopefully, Lorne Michaels and company recognize this before it's too late.