Last week, after episode five of HBO's The White Lotus aired, a theory began to bubble up about where Tanya's storyline may be heading. Our Josh Kurp laid out the basics a few days ago. (Obviously, spoilers are coming ahead.)
Remember Greg (Jon Gries)? Tanya's husband? He hasn't been seen since episode three, when he tells Tanya that he has to cut their vacation short because he has a work thing in Denver that he needs to take care of. He claims he'll be back in two days, but Tanya overhears him talking to someone on the phone. "Yeah, she's clueless as usual," he says. "I'll be home tomorrow." He even says "I love you" to the mystery caller. Tanya is verklempt after Greg leaves — until she meets the "high-end gays," led by Greg, who after a day spent drinking and gossiping, invites her to a fancy palazzo in Palermo.

It's important to remember something Cam said earlier in the season: "These European aristocrats, they have no money. Like, I sh*t you not. They have all these palazzos, and they got no cash." Cameron might be a douche (OK, he's for sure a douche), but he's on to something here. Think about it: Jack, who travels with Quentin & Co., dines and dashes with Portia, partially for the thrill of it, but also maybe because he doesn't have any money? Could the high-end gays be scamming Tanya? And — to go full Pepe Silvia — is Greg involved? Y'know, Denver isn't far from Montana, where Quentin tells Tanya he fell in love with an American cowboy. It would also explain why Greg was so upset about Portia being there during the Sicily trip (or maybe he just didn't want someone who wasn't his wife around on a romantic trip, which would be understandable).
Fast forward to the episode that aired tonight (episode six) and, after snorting a bunch of cocaine, Tanya goes wandering around Quentin's palazzo while she waits for her much younger (and "notoriously well-hung") Italian drug dealer paramour to prepare himself to bone her, and then she comes across a photo featuring two dudes who look a lot like younger versions of Quentin and Greg (aka "the cowboy".)
Yep, that's definitely Greg and Quentin. All things considered, it seems like the aforementioned fan theory about Tanya's storyline was pretty spot on and there seems to be nefarious business afoot here. Especially considering all the cocaine being fed to her.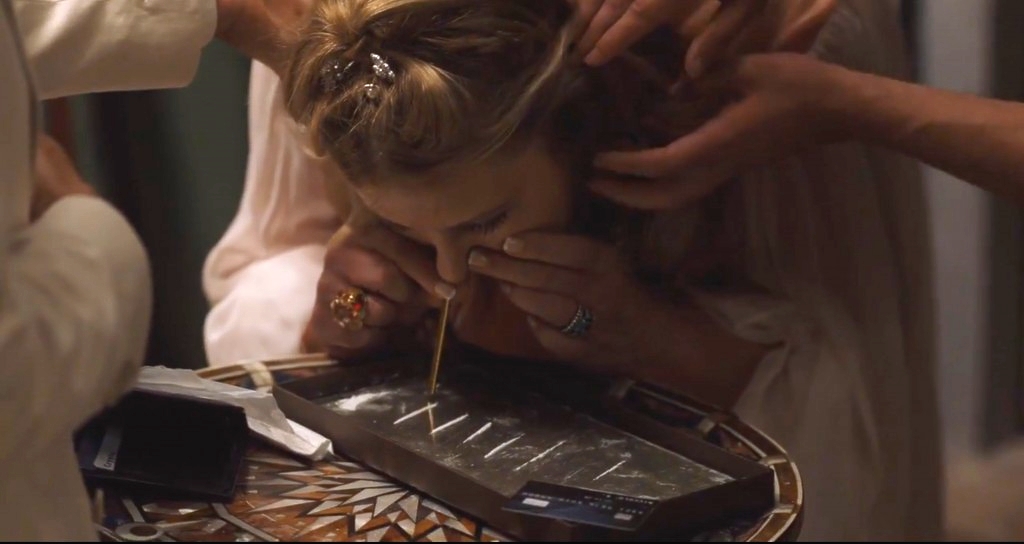 Looking forward to the season finale next weekend to see what happens!