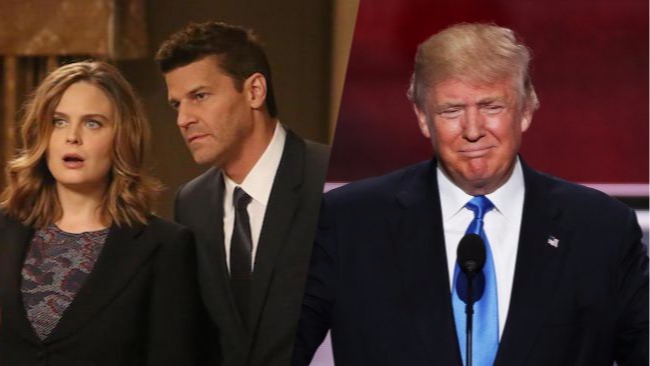 Unless you were already a die-hard Bones fan watching the popular series' penultimate finale on Thursday, then you were probably watching Donald Trump accept the Republican nomination. That, or doing something more productive with your time. Either way, both momentous occasions occurred simultaneously for viewers in Pacific and Mountain time zone markets — due primarily to the Donald's record-breaking 76-minute speech. As a result, West Coast audiences missed the first 40 minutes of Bones and were absolutely furious about it. Even star Emily Deschanel took to Twitter to express her disappointment.
According to Deadline, Deschanel asked, "how is anyone gonna understand what is going on" because of the massive broadcast overlap. A few minutes later she angrily tweeted, "Politics shmolitics they should have just forgotten about the convention" and shown Bones instead.
Considering the ratings promised by Trump's acceptance speech in Cleveland, it's perfectly understandable why Fox and other networks decided to carry all 76 minutes. Since Fox didn't respond to Deadline or anyone else's request for comment, however, it's difficult to know precisely why they chose not to delay or reschedule the episode. Besides, Trump-driven ratings are great and all, but the move left many Bones fans seeing non-Republican shades of red.
(Via Deadline)