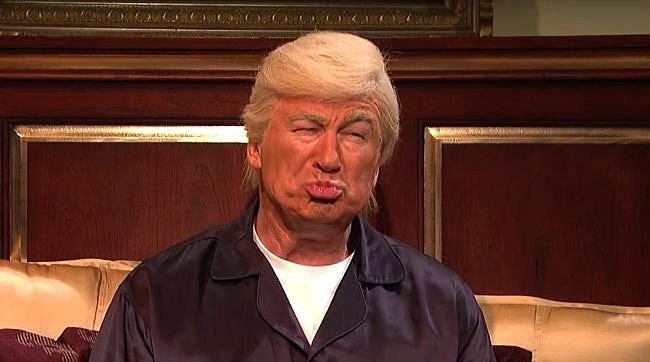 President Donald Trump kicked off his Sunday morning with a string of tweets about various subjects, including the latest episode of Saturday Night Live. The things is, NBC didn't air a new episode of SNL on Saturday night. (Following Idris Elba's debut as guest host last weekend, the next new SNL with Sandra Oh is slated to air March 30th.) The March 16th episode was actually Matt Damon's Christmas episode, which originally aired on December 15th. So, basically, Trump got mad about a rerun.
"It's truly incredible that shows like Saturday Night Live, not funny/no talent, can spend all of their time knocking the same person (me), over & over, without so much of a mention of 'the other side.' Like an advertisement without consequences," he tweeted. "Should Federal Election Commission and/or FCC look into this? There must be Collusion with the Democrats and, of course, Russia! Such one sided media coverage, most of it Fake News."
CNN's Brian Stelter (and many others) were quick to point out that Trump was raging over a repeat SNL episode and not a new one.
To make matters even worse, when the Damon-hosted episode — which includes the "It's A Wonderful Trump" cold open sketch — premiered back in December, Trump spent much of the following morning threatening the NBC variety series with practically the same thing: a federal investigation.
"A REAL scandal is the one sided coverage, hour by hour, of networks like NBC & Democrat spin machines like Saturday Night Live," he wrote at the time. "It is all nothing less than unfair news coverage and Dem commercials. Should be tested in courts, can't be legal? Only defame & belittle! Collusion?"
In other words, Trump (apparently) unknowingly railed against SNL for ridiculing him in an old episode that he had previously railed against when it first aired. He even made similar threats against the show.
(Via Entertainment Weekly)