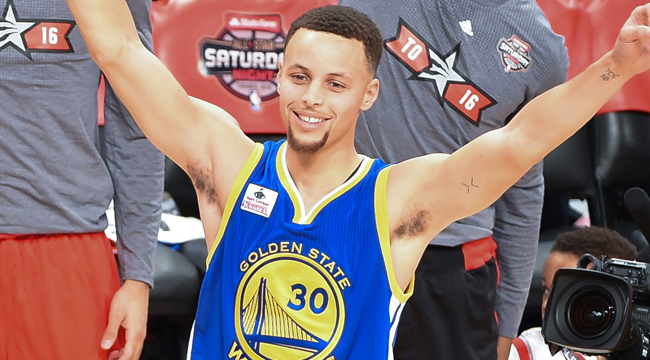 All of our NBA coverage for Game 3 can be found right here, and tonight's programming lineup can be found below.
Jimmy Kimmel Live! (ABC, 8:00 p.m.) — A special game-night episode will air with Jennifer Lopez doing her best to warm up a crowd.
NBA Countdown (ABC, 8:30 p.m.) — Michelle Beadle, along with another panel of analysts and commentators, will hash out those top NBA storylines.
NBA Playoff Game 3 (ABC, 9:00 p.m.) — After winning Game 1 in overtime and dominating in Game 2, the Golden State Warriors will aim to put another nail in the Cleveland Cavaliers' coffin tonight.
If you're not a sports fan, here are a few other TV highlights:
American Ninja Warrior (NBC, 8:00 p.m.) — A Jurassic World: Fallen Kingdom theme takes Chris Pratt and Bryce Dallas Howard onto the LA qualifier course.
The Originals (CW, 9:00 p.m.) — Unexpected allies help Elijah work to save Antoinette, and Ivy frets over the dark magic separating him from his family.
MasterChef (FOX, 8:00 p.m.) — The judges get down and dirty while a mystery box challenge heats up the season for Battle of the Apron challenge.
Reverie (NBC, 10:00 p.m.) — A "Jane Bond" adventure leads to a client's addiction, and Mara must scramble to help her recover while also dealing with Reverie side effects.
Code Black (CBS, 10:00 p.m.) — After a pyramid stunt leads to disaster, Rox decides it's time to make amends with her ex-step coach, and Noa, Leanne, and Campbell argue over the correct method in treating an emergency case.
LATE NIGHT GUESTS
Jimmy Kimmel Live!: Mariah Carey, Isla Fisher, Kyle featuring Kehlani
The Tonight Show Starring Jimmy Fallon: Will Smith, Fran Lebowitz, Billie Eilish
The Late Show With Stephen Colbert: Mandy Moore, Sara Bareilles & Josh Groban, Meghan Trainor
Conan: Jodie Foster, Flula Borg, Neko Case