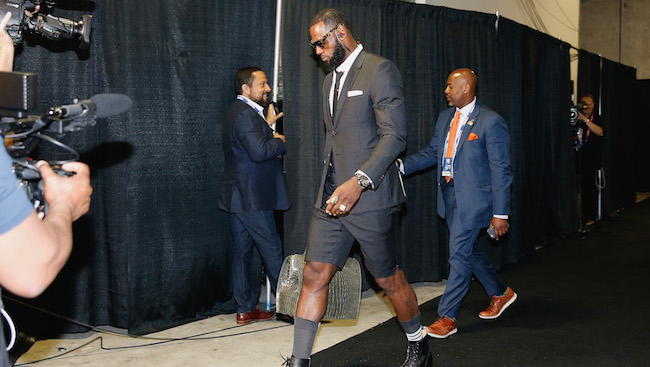 LeBron James was nothing short of incredible in Game 1 of the NBA Finals, scoring 51 points while dishing out eight assists and pulling down eight rebounds. Unfortunately for James and the Cavs, the talk after the game was about a questionable refereeing decision, a missed free throw by George Hill, J.R. Smith's all-time mental gaffe, and the Warriors running away in overtime.
The Cavs blew a shot at stealing a game in Oakland, which will likely come back to haunt them in this series, but Game 2 offers another opportunity. If LeBron produces another game like he did on Thursday night, they may be in a position to do so and he's leaving nothing to chance when it comes to ensuring a repeat performance.
Prior to Game 1, LeBron turned heads when he arrived in a shorts suit (along with Jordan Clarkson). Given how he played after letting his calves breathe, James broke it back out for Game 2, arriving with his knees and calves flourishing out in the open once again.

There are few men alive that can pull that look off, but you can't argue with the results of the shorts suit. As someone that is staunchly against wearing pants unless absolutely required, I hope the result of this series is LeBron shattering the idea that you need to wear pants even with a suit.