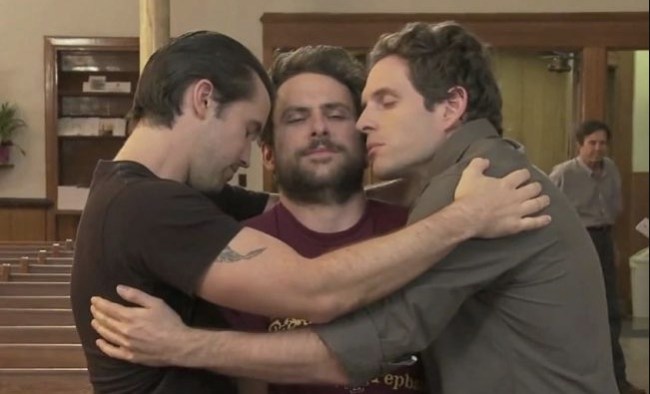 It's Always Sunny in Philadelphia seemingly lost a cast member during the Season 12 finale, in which Dennis Reynolds (Glenn Howerton) left the gang to raise his son, Brian Junior. It was frequently hinted he could still return for the thirteenth season, with Howerton — now starring alongside Patton Oswalt on NBC's A.P. Bio — saying he can do two shows at once and Kaitlin Olson (who plays Dee Reynolds) revealing Dennis will return for "some episodes" in Season 13. But Dennis isn't returning for "some" episodes; he's returning for "the majority of them" according to co-writer and co-star Charlie Day at the FX presentation at the Television Critics Association summer press tour.
"He's in pretty much every episode," Rob McElhenney said, going on to talk about some of the ideas they came up with "before we knew that Glenn was actually coming back." Day explained that one of those ideas was an "all-female reboot" of "The Gang Beats Boggs" (an episode already starring Dee, The Waitress, Artemis, Mac's mom, and Charlie's mom).
That idea was seemingly jettisoned (damn), but Day also revealed a couple of new characters we can look forward to in the premiere. That episode introduces Cindy, a "new, ethnically diverse female member of the gang who can successfully pull off scams," and it also introduces a new, very close friend for Mac, "a life-like sex doll that looks exactly like Dennis." We hope they ride a tandem bike at some point. Because of the implication.
It's Always Sunny in Philadelphia Season 13 will premiere on FXX on Wednesday, September 5th at 10 pm EST / 9 pm CST.
(Via Collider)