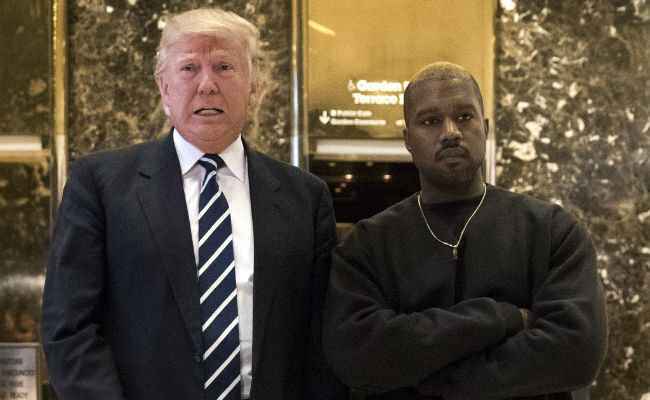 Kanye West has been really into offering public support for Donald Trump, and now the president appears ready to invite the rapper over for a constructive hangout at the White House.
The New York Times reported late Monday night that a visit by West to the White House will be on Trump's calendar later in the week. Set for Thursday, the meeting will apparently include lunch with Jared Kushner and a talk with Trump about Chicago and jobs for former convicts.
Mr. West, who has faced a backlash over his vocal support of the president, will meet first with Mr. Kushner and then have lunch with the president, the two people said.

Mr. Kushner, who serves as a senior adviser to Mr. Trump, has been focused on overhauling the criminal justice system, and one person briefed on the meeting said that Mr. West wanted to discuss the availability of job opportunities for former convicts. He also hopes to discuss with Mr. Trump how to increase the number of manufacturing jobs in the Chicago area, where Mr. West grew up and recently said he planned to return, according to the person briefed on the meeting.
West has tweeted about his intent to bring manufacturing jobs back stateside in recent weeks, saying that his Yeezy basketball shoes, which may or may not ever appear on the floor of an NBA game, will be made in the United States by Adidas if he gets his way.

If the meeting does go down and West sticks to his talking points, he would be the second member of his family to lobby the 45th president in person. West's wife, Kim Kardashian, successfully lobbied Trump to pardon Alice Marie Johnson earlier in the year.
Much of West's digital support for the president, however, was lost when Kanye deactivated his social media last week. West's friendship with Trump is more supportive than symbiotic at this point, though an in-person meeting with a sitting president is clearly a big deal. It's also part of a long-running show of public support by West for president Trump, which started before he took control of the Oval Office. Two years ago, West met with president-elect Trump at his eponymous New York skyscraper to discuss, well, it wasn't exactly clear what West was doing there at the time.
In the years since, West has espoused his support for the president through a custom MAGA hat and various rants in support of him, most recently after the taping of Saturday Night Live. West has also recently said the constitutional amendment banning slavery should be abolished.
West's SNL tirade earned him plenty of guff in the days since, but it's clearly drawn the attention of the president with his support. But who knows — maybe Trump is just tired of wearing Big Baller Brand shoes and wants to get a pair of Yeezys from West. Everyone's always got an angle, you know.