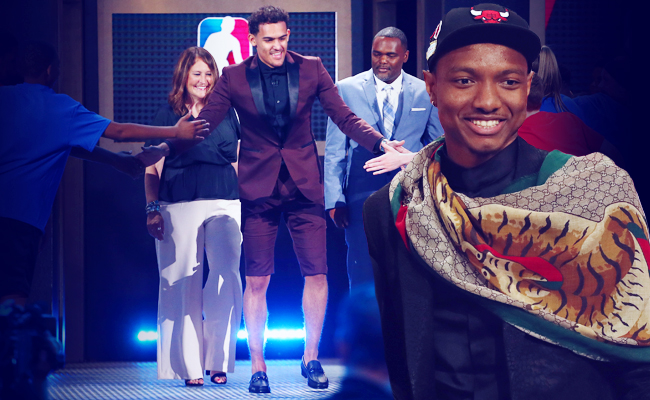 The NBA Draft has come and gone, which means the Association has a new crop of professional players and fans can get excited about the future of their teams. It also means we get to evaluate NBA prospects on a new set of criteria: their sense of fashion.
Draft night fashion has been a big deal for a long time, but it's now big business for designers and companies that want to get their gear on national television thanks to some of the biggest prospects coming into the league. Players work for months with designers to get their draft night looks right, and that includes shoes, suit jacket linings and, of course, extremely clashing team hats.
For some of these guys, the hats were temporary. But the takes about these outfits will last forever. There were a lot of prospects and fashion choices, so let's go with three fashion wins and three losses from the NBA Draft. Shall we begin?
The Bad Stuff
Trae Young's Suit Shorts
The Youngest member of the Atlanta Hawks followed suit with Draymond Green and LeBron James and wore, sigh, suit shorts at this year's NBA Draft. Which is a shame, because the rest of the suit is fine. Good, even!
Young said he wore shorts because no one had ever worn them at the Draft before. Which, when you think about it, really isn't a great reason to do anything. Here are some other things NBA draft picks have never worn at the Draft:
— hospital scrubs
— a suit made of fish
— the paralyzing weight of unreachable expectations
— spats
The last one is worth exploring, maybe. But cutting a nice pair of pants in half and using George Mallory logic doesn't make you fashionable. Much like Mallory, however, it can make you quite cold.
Shai Gilgeous-Alexander's Over-The-Top Suit
Some squares on the ESPN broadcast poked fun at Gilgeous-Alexander's look, noting that they're worried some curtains have gone missing. It's a patterned suit, so I get the joke. But you have to admit, it doesn't look completely terrible. It also does not look good. Everything matches well here, including a solid knit tie. I actually really want to like this, but it's all a bit too much. Couch and old upholstery jokes are too easy to make here, which is why putting it everywhere is sort of a problem.
Kevin Knox's Fortnite Suit Jacket
There's something to be said for shooting your shot and adding a bit of your own personality to your draft fashion. This is where Knox should be commended for what he wore on Thursday. He loves Fortnite, and wanted it to be part of his look. But it's a very busy look, if you ask me. A checkered vest and plain blue suit and black bow tie. There's a lot happening there. It's not a very clean look.
One positive for Knox is that he tried to get an endorsement deal out of the suit on Twitter later, which honestly is just a sound business decision if you ask me.
Knox got booed by Knicks fans on his first night as a Knick because he was a person drafted by the Knicks. But he handled it, and looked, about as good as you can in the process of going through all that.
The Good Stuff
Wendell Carter Jr.'s Black Panther Outfit
Pro tip: If you can make matching outfits for your parents AND tie in one of the biggest movies of the year, definitely do that. Forget about dunking in a Black Panther mask, wearing Wakanda-inspired outfits with your family to the biggest event of your young life is flat-out awesome.
An inspired outing all around. Congrats to the Carter family on the big day.

Lonnie Walker's Everything
We have to include Walker here because that means I get to use the above photo, which is not altered in any way, shape or form. Walker's hair was amazing on draft night but Hats Must Be Worn At All Times On Stage and this was a problem because, well, he was not wearing hat hair on the biggest night of his life. So we get this remarkable snapshot moments before he took the hat off and tried to make it look a little less like a magic trick.
The double breasted suit itself is a bit Sunday preacher-like, but he pulls it off. There are a lot of things that could have gone wrong here. A levitating hat. A white suit. A double breasted white suit, even. But it all works. Top marks.
Jaren Jackson Jr.'s Jacket
Jaren Jackson Jr. looks like a lounge singer trying to blend in with the surroundings of the rundown club he performs at five nights a week. What I'm trying to say is he looks friggin' spectacular here. Crushed velvet is not a common material for, uh, much of anything these days. It works well with the black bow tie, looks good at every angle and is certainly a look worth remembering, especially when he opens up the jacket and shows it has a deeper meaning.
We all have one friend who overmatches, or wears one too many weird things to an event to make it all look far too busy. This is that friend, who was then told to pick just one odd piece, build normal clothes around it and look great.