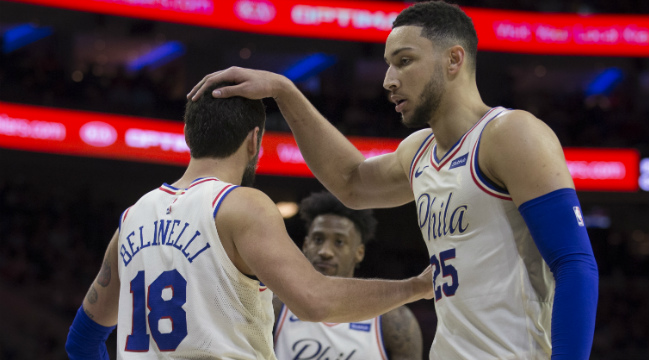 Donovan Mitchell made it a point to try and send a message to the basketball world on Tuesday night. We don't mean with his 22-point outing in Utah's 119-79 win over the Warriors, although that was rather impressive. No, we mean before the game, when Mitchell showed up in a hoodie that prominently featured the definition of a rookie.
Mitchell is wrapped up in a fierce race for the 2017-18 Rookie of the Year award with Philadelphia's Ben Simmons. The battle between the two has occurred on and off the court, and Mitchell is one of several NBA players who think Simmons isn't actually a rookie because he sat out last season with the injury.
Simmons also took the floor in a win on Tuesday — Philly beat Atlanta, 121-113 — and after the game, he was made aware of Mitchell's hoodie by the press. Since Simmons isn't exactly known for biting his tongue, he responded with some sharp words for Utah's star guard.

"I think if his argument is that I'm not a rookie, if that's the only argument that he has, [I'm] in pretty good shape then," Simmons said. "There's a rule in the NBA for a reason, I'm not gonna wear a sweatshirt tomorrow."
Beyond the fact that this race is really competitive on the court, it is really fun to watch two guys take the award so seriously that they're publicly making their cases and going back-and-forth like this. The good news is that, well, they're both rookies, so once the award is given out, it won't be the final chapter in the rivalry between the pair.