When Blue Chips made its way to theaters in February of 1994, casual fans of college basketball may not have been as fully aware as they are today of some of the underhanded seediness that goes on during the recruiting process. But the movie's screenplay by Ron Shelton – who had previously written Bull Durham and White Men Can't Jump – attempted to shine a light on the Catch-22 that college coaches often face: If you don't win, you're fired. But in order to keep up with the coaches who are winning, you may have to bend the rules. Just don't get caught, or again, you're probably going to get fired.
That was the central conflict facing head coach Pete Bell of the fictional Western University Dolphins, played brilliantly by Nick Nolte. As far as he knew, in his long and decorated coaching career, Bell had never broken the rules by paying for players in order to secure their commitments. Then again, he also never had to. But desperate people do desperate things, and with his team no longer winning, his situation was framed in a way that made it seem like he had no other choice.
Looking back, Nolte was the absolute pitch-perfect actor to portray the movie's conflicted basketball coach. He not only looked the part – according to the film's DVD, he prepared for the role by shadowing coach Bobby Knight for a year during Indiana's 1992 season – but he also featured the scratchy voice that's typical of most men who make their living barking out orders to impressionable young adults from the sidelines of a basketball court.
As for the rest of the cast, it was rounded out by a handful of wonderful character actors, as well as a who's who of famous basketball names within the circles of both the NCAA and NBA (each of whom displayed varying degrees of acting ability). Let's check in on what some of them have been up to since the movie's release 22 years ago in honor of co-star Shaquille O'Neal's 43rd birthday on Sunday.

Nick Nolte – Coach Pete Bell
Nolte has not stopped acting in the two decades since Blue Chips was released, with over 50 acting credits on his resume in the last two decades. He even received a Best Actor nomination in 1998 for his role in Affliction. However, in 2002, he made headlines for all the wrong reasons when he was arrested for drunk driving, and at booking, provided the public with a classic mug shot for which all subsequent mug shots will forever be judged.
His acting career never suffered, though, and he was once again nominated for an Academy Award in 2011 for his work in Warrior. He also had memorable supporting roles in Tropic Thunder and The Ridiculous 6, and later this year, he will play the title character in a 10-episode television series on Epix called Graves.
Shaquille O'Neal – Neon Boudeaux
At the time of this movie's release, Shaq – who played a 7-foot-4-inch basketball phenom from Louisiana named Neon – was an up-and-coming star for the Orlando Magic. He was not yet a four-time NBA Champion, 15-time All-Star, and likely basketball Hall of Famer, but he certainly showed the potential for eventually being each of those things. In an NBA career that lasted 19 seasons, Shaq was one of the most dominant players the game has ever seen, ranking seventh all-time in points scored and blocked shots, and 13th all-time in rebounds.
After his playing career ended in 2011, he joined TNT as an NBA analyst(?) alongside Ernie Johnson, Kenny Smith, and Charles Barkley, where he continues to provide "expert analysis" on an almost nightly basis.
It should also be noted that earlier this year, he made headlines with some eyebrow-raising quotes that indicate that the character of Neon may not have been as fictional as we previously thought. Asked about his time in college at LSU, Shaq said, "they paid very well." In other words, Blue Chips was semi-autobiographical and there's a decent chance that Shaq didn't even realize it at the time that he was on a movie set.


Penny Hardaway – Butch McRae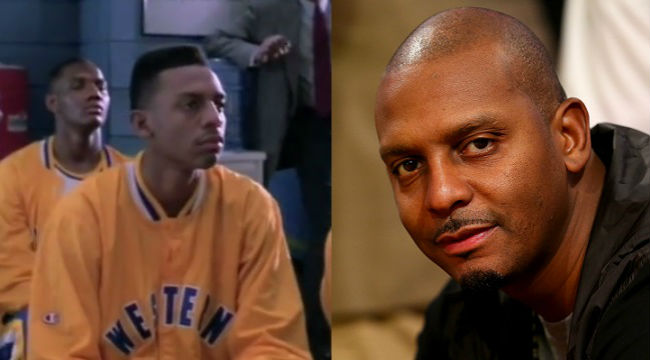 Hardaway was still a rookie in the NBA when Blue Chips was released in February of 1994. By the end of that season, he and Shaq were leading the Orlando Magic to the team's first playoff berth in franchise history. Hardaway's first three seasons in the NBA stack up well alongside some of the all-time greats, and in the mid-1990's, it looked like Orlando would be a perennial championship contender for the next decade. However, it was not meant to be. Shaq left the team in free agency in the summer of 1996 and headed west to Los Angeles, where he eventually led the Lakers to three-straight titles in 2000, 2001, and 2002.
As for Hardaway, he suffered a major knee injury a year after Shaq left and was never quite the same. After two microfracture surgeries, he settled in as a journeyman player in the league, and never showed the same explosiveness that he showed in his first three seasons. He eventually retired from the NBA in 2008, which sounds sad, but he did earn over $120 million in NBA salary throughout his career. Today, he occasionally donates his time coaching youth basketball teams. Also, in 2012, he purchased a minority stake in the Memphis Grizzlies.
Ed O'Neill – Ed
It's always interesting how Hollywood portrays sports reporters, as if they are the worst people on Earth. Granted, most of them might be, but here, O'Neill's Ed spent the entire movie asking perfectly reasonable questions of Coach Bell – AND IT TURNED OUT HE WAS RIGHT!!! – but the audience was still led to think that he was being an a-hole the entire time. Maybe it was his smug grin.
After Blue Chips, O'Neill continued playing the iconic role of Al Bundy on Married With Children until 1997 when the show ended after its 11th season. A few lean years followed during the early aughts with failed TV shows like a reboot of Dragnet and a role in HBO's John From Cincinnati, but in 2009, he caught another big career break, landing a supporting role in Modern Family as the patriarch of the dysfunctional Pritchett family, for which he has been nominated for three Primetime Emmy Awards. The show is currently in its seventh season on ABC.
Mary McDonnell – Jenny Bell
Two years after Blue Chips, McDonnell followed up her role as Coach Bell's Supportive-Yet-Estranged-Wife-Slash-Tutor-To-The-Stars by portraying America's First Lady in Independence Day. Then in 2001, she played Jake Gyllenhaal's mom in Donnie Darko. But like O'Neill, it would be television that would lead to McDonnell's most significant work, first with a supporting role as President Laura Roslin for seven seasons on Battlestar Galactica between 2003 until 2009, and since then, her role as Captain Sharon Raydor on The Closer and its spin-off show, Major Crimes. Basically, she's the Queen of TNT original programming.
J.T. Walsh – Happy
Walsh was already a beloved character actor by the time he portrayed a "friend of the program" in Blue Chips, with supporting roles in hits like Tin Men, Backdraft, and A Few Good Men. Then, following Blue Chips it was more of the same, with roles in Nixon, Outbreak, Sling Blade, and Breakdown. Sadly, Walsh passed away in 1998 from a heart attack at only 54-years old.
Anthony C. Hall – Tony
In Blue Chips, you may remember Hall's character Tony as Western University's last remaining holdover from Coach Bell's bygone era, one in which he mistakenly thought was still ethical and pure. Unfortunately, Tony wasn't so pure after all, as he later admitted to his coach that he had agreed to a point-shaving scheme during his freshman year. The scene where Bell confronts Tony about it at a campus party is still a kick in the gut.
Today, Hall remains good friends with Shaq, who he continues to team up with as a producer for Shaq's Next All-Star Comedy Search, which is a talent show that tours the country looking for the next potentially big stand-up comedian.
Matt Nover – Ricky Roe
The script for Blue Chips didn't seem to mind the comparisons that its character Ricky Roe would have to Larry Bird. In fact, they went all in with it by making Ricky a blue chip prospect from French Lick, Indiana, and giving Bird an inexplicable cameo shooting jumpers at an outdoor court all by himself. We're confident Larry never asked a college coach for $30,000 in cash to be delivered to him in a duffel bag, however.
As for the actor who portrayed Ricky Roe, Nover has no other acting credits on his resume, so he was essentially a one-and-done, if we're using NCAA Tourney-speak. However, he was still a great basketball player in real life, and managed to play professionally in Europe for over a decade up until 2004. Today, he has given up sports and is currently a district manager for a surgical company.