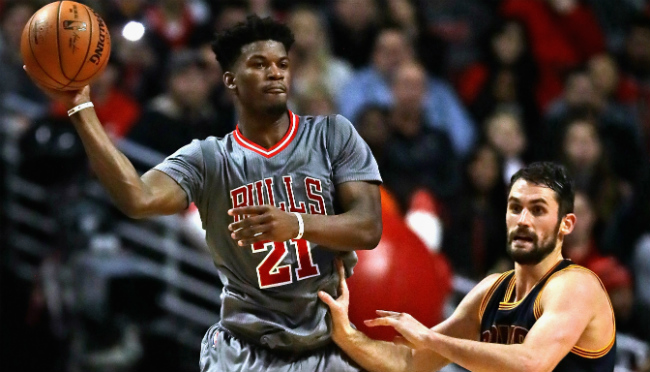 The Cleveland Cavaliers seem like they may be looking into doing something drastic. After the NBA Finals made it fairly obvious that the team has to do some work to catch up to the Golden State Warriors, reports in the last few days have sparked speculation that Cleveland may be interested in acquiring Paul George or Jimmy Butler in a trade.
The George conversation didn't seem to be much more than the Pacers reached out to the Cavs to gauge their interest and Cleveland seems intrigued, but the Butler rumors imply that the team's front office is actively trying to acquire the Chicago star. In fact, Marc Stein of ESPN reports that the Cavs are willing to part with Kevin Love if it lands them Butler.
Sources told ESPN that the Cavaliers, in addition to their reported interest in Indiana's Paul George, are trying to assemble trade packages that would convince the Bulls to part with Butler, who is fresh off the best season of his career.

It's believed that the Cavaliers, by offering All-Star forward Kevin Love, would try to recruit a third team that could supply the sort of young player and top draft picks sure to be more appealing to Chicago than the limited trade assets on Cleveland's veteran-laden roster.

Stein also reports that Boston has a "longstanding interest" in Butler, which makes sense considering that the Celtics reportedly tried to acquire him at the trade deadline.
But the big news is that Cleveland would potentially be so eager to get Butler that they'd be willing to move Love, who has been a crucial piece to their core ever since he was acquired in 2014. According to ESPN's all-powerful Trade Machine, a Butler-for-Love deal works, so the two sides could conceivably agree to a two-player deal.
Based on Stein's report, though, that kind of deal wouldn't interest Chicago, so they would need to find another team to add in some more appealing assets (and, if need be, take Love). The initial reports about this deal indicated that Phoenix — which has a top-5 pick in this year's draft, a few future picks via the Miami Heat via the Goran Dragic trade, and several cheap young players like Dragan Bender and Marquese Chriss — could come in as a potential third team. Boston is also reportedly "lurking" with the No. 3 pick in the draft, although it's hard to imagine they'd want to help Cleveland acquire Butler even if it nets them a player like Love.
Love always seemed like he would be the odd man out if Cleveland tried to do anything drastic this offseason. If Stein's report is to be believed and the Cavs can find a move that lands them Butler, that very well may end up being the case.
(Via ESPN)