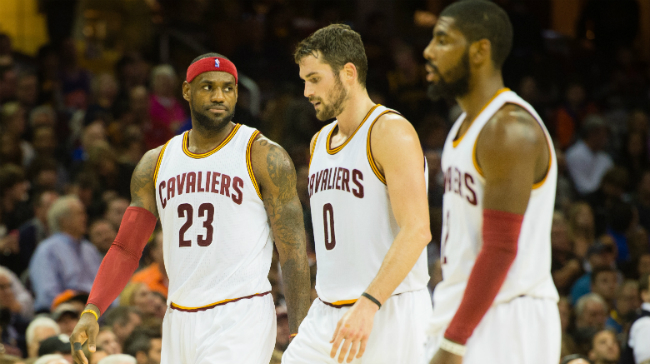 Paul George unexpectedly getting traded from the Indiana Pacers to the Oklahoma City Thunder at the start of NBA free agency in early July set the internet on fire with jokes and rapid reactions. And while the Thunder acquiring George seemingly out of nowhere caught everyone by surprise,ESPN's Brian Windhorst's report that Kyrie Irving wants a trade from the Cleveland Cavaliers may have topped it. So much so that even LeBron James was "blindsided" by the news.
Irving reportedly desires to be the leading man on a team and doesn't want to play second fiddle to James anymore. Since basically the end of the Cavs' postseason run, Irving has been ruminating about leaving Cleveland, and he apparently told the Cavs that he wanted to be traded to the Chicago Bulls before Jimmy Butler was shipped off to Minnesota. But after the Bulls traded Butler, Irving adjusted his preferred choice, and now the San Antonio Spurs, Miami Heat, New York Knicks and Minnesota Timberwolves are on his list of preferred teams. The Knicks are already trying to work on a deal to acquire Irving, but it's still in the beginning stages, and the Cavs may not rush into trading away their All-Star point guard.
Things are definitely peculiar in Cleveland, which is why the internet just had a field day, cracking jokes about both Irving and LeBron:
Jokes aside, with Irving's desires becoming public, Cleveland is now facing a rather uncertain future. And to add on to their woes, James could maybe head to the Lakers next season as a free agent. At least the Cavs finally hired a GM in Koby Altman, who now inherits a championship-contending team at a crossroads.