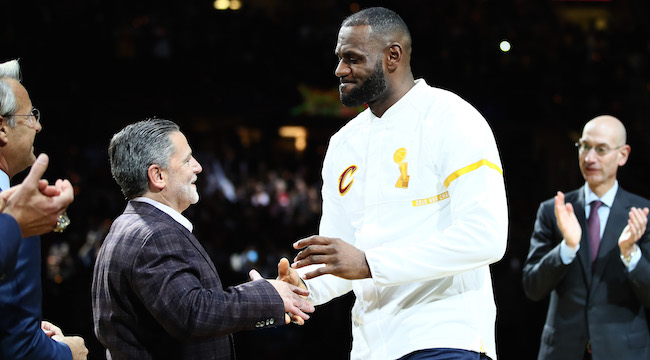 There is a seemingly endless supply of drama coming out of the Cleveland Cavaliers organization as we near the NBA's trade deadline at 3 p.m. ET on Thursday.
Trade rumors continue to pour out of Cleveland, as do reports of the Cavs struggling to find takers for some of their bigger contracts, and the apparent discontent between LeBron James and owner Dan Gilbert continues to build. On Tuesday, we learned that LeBron James has apparently reaffirmed that he will be sticking things out in Cleveland through the season and will not be waiving his no-trade clause before Thursday's deadline.
That comes as little surprise, but as the Cavs have begun recognizing the difficulty in fixing the roster currently, there were some suggesting they try to make a full on play for the future and potentially try moving LeBron. James refusing to waive his no-trade clause nips that possibility in the bud and forces the Cavs to continue making very difficult choices regarding what to do with their best asset in the Brooklyn pick with so much uncertainty about LeBron's decision this summer.
James' refusal to commit beyond this season, coupled with the contract trouble the Cavs are having thanks to Tristan Thompson and J.R. Smith's big deals signed in 2016, have apparently frustrated Gilbert tremendously. According to ESPN's Stephen A. Smith, Gilbert now simply wants LeBron gone.

"I am of the mindset that Dan Gilbert needs to take control of the narrative," Smith says. "Dan Gilbert and LeBron James don't get along. They do what they've gotta do because it's business. They don't get along. They don't particularly like each other. Dan Gilbert wanted him to re-up at the beginning of the year for three to five years. LeBron said no. That's when Dan Gilbert traded and brought Isaiah Thomas and [Jae] Crowder. I doubt seriously that a big time move is going to be made by the Cavs, because I don't think Dan Gilbert wants to start anew. My sources tell me, you've got some people in Cleveland and I have no doubt this is emanating from Dan Gilbert — I don't know it for sure, but I have no doubt — this man wants LeBron James gone. He's tired of being held hostage by him. He wants him up outta there."
The part where he says "I don't know it for sure, but I have no doubt" is one of the finest Stephen A.-isms ever. It's just tremendous. Aside from that and saying Jamie Crowder, Smith probably isn't completely off base here. We know how adversarial the relationship is between the two and we know how Gilbert can get when he feels challenged for power. It's the reason David Griffin is no longer GM and Gilbert is now reportedly running the show, and if Gilbert feels as though he's bent over backwards for LeBron, whether he's right or not, and now he's seeing things falling apart it wouldn't be a surprise that he would feel this way.
James has played his return to Cleveland as well as any player ever has to ensure he holds leverage over the team. By taking short-term contracts over and over he's kept pressure on Gilbert to keep spending in order to keep him around. That's why Thompson and Smith got the deals they did, although at the time neither looked nearly as bad as they do now so to say James forced them on the Cavs is a bit of revisionist history. However, if Gilbert is reading the tea leaves as if James is possibly going to leave anyways, he's not going to keep spending, hence the George Hill trade still not being done, and he's going to hold onto that lone asset he obtained in the Kyrie Irving trade.
Smith likely is sensationalizing this, as he is wont to do, but the basic idea that Gilbert is frustrated with LeBron and that their relationship is fractured, potentially to the point of disrepair, probably isn't incorrect and is something others have reported.
Have you checked out the new DIME podcast?