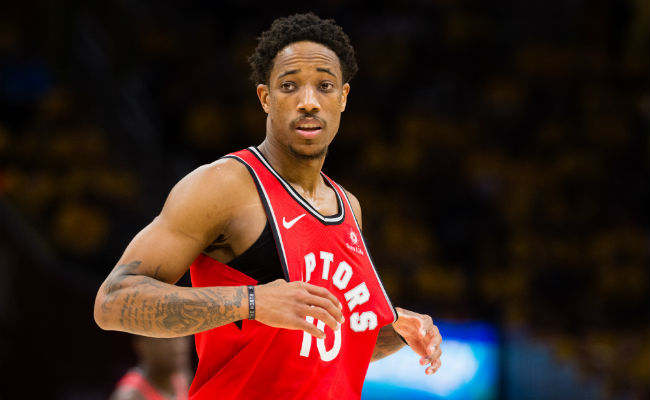 We're a few days past the Kawhi Leonard trade that woke up much of the NBA world, and it seems like the parties involved are beginning to accept that it actually happened. Leonard, at first balking at the chance to play in Toronto, actually showed up there on Friday night sporting Raptors gear.
DeMar DeRozan, the other big piece going back to the San Antonio Spurs, has had an equally difficult time dealing with the trade. DeRozan claims he was given assurances that he would not be traded, but those assurances obviously didn't mean much. And 28-year-old guard had played his entire nine-year career in Toronto before Wednesday.
DeRozan had posted a few cryptic messages on social media in the days since the trade, but on Saturday he finally put some words to his feelings about the move, the city he called home and the fans there that supported him for nearly a decade. Posting a photo of him signing a Raptors jersey, DeRozan thanked fans for the "love and passion" they showed him over the years.

https://www.instagram.com/p/BlgG8-CndHw/?taken-by=demar_derozan
DeRozan really seemed shocked and hurt by the move, and uprooting your life from one country to the other side of another one is difficult for anyone, even well-off athletes. But his thanks for Raptors fans shouldn't be misconstrued as indifference to his new team, either. It's a big, emotional change for two fan bases that haven't had to experience major shifts like this in some time.
There are many things about the move and the news around it that has been strange, but it seems like things are settling down. Change, after all, is hard. But it's also inevitable.