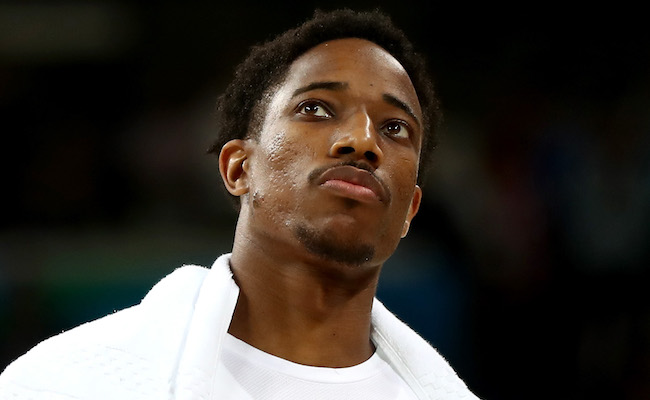 More than two months have passed since DeMar DeRozan was traded from the Toronto Raptors to the San Antonio Spurs. At the time, the move was largely lauded for the Raptors, as Toronto managed to secure the services of Kawhi Leonard (and Danny Green) for an-court price that was deemed to be quite reasonable for a top-flight player in the midst of his prime.
The subplot of DeRozan's reaction to news of the trade, however, was interesting in that the All-Star wing was clearly frustrated, especially when it came to the lack of advance notice from the Raptors organization that the trade went down.
Though things have calmed down a bit over time, DeRozan is still in a new place for the first time in his NBA career and, even with the organizational stability in San Antonio, things will be different for the former USC star. Still, he'll be playing alongside a close friend and former Raptors teammate in Rudy Gay. It was revealed this week that the two shared an important conversation after the trade took place, and Gay helped him feel better about the surprise move.

"He felt a little hurt, so he called me," Gay told Jeff McDonald of the San Antonio Express-News. "I took the chance to calm him down and let him understand it's not that bad."
It certainly doesn't come as a shock that DeRozan would reach out to a friend in the profession for advice and comfort but, in this case, DeRozan was also joining Gay in his new situation. Gay shared that he "was being a friend" at that point in the process, citing that he "knew where (DeRozan) was coming from" in that moment. Still, the interview notes that the two remain close and that Gay has been integral in helping DeRozan to acclimate to his new surroundings.
On the floor, there may be some challenges with DeRozan in a new situation, if only because the Spurs are a very different organization than most in the league. Still, he is a tremendously talented player operating under a legendary head coach and with a highly effective system in place. It seems safe to assume that, at some point along the way, DeRozan's post-trade frustrations may arise again but, with Gay in his corner and a solid situation on paper, things are looking up again for the now-former Raptors standout.