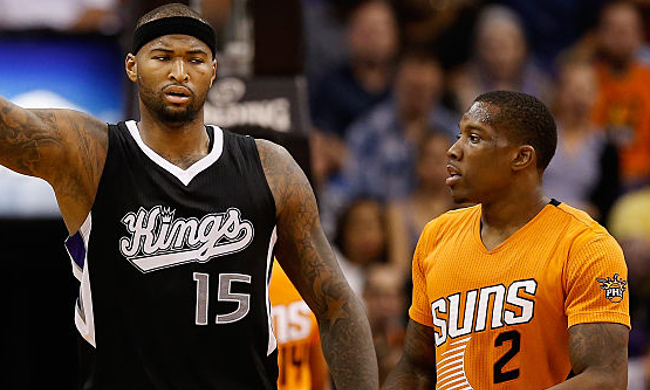 For the last month or so, it seemed that the inevitable had somehow become the impossible. The Sacramento Kings, perpetually upset with their "hot head" malcontent superstar, would not trade DeMarcus Cousins. (The sound we heard in the distance was the trained chimp running Headline and Global News' BS trade content generator biting through its leash, crashing through the window, and running for freedom.) Oh, and it helped that the new CBA gave Cousins roughly 207 million reasons to stick around Sacramento for his next deal.
Worst of all, the revelation that Boogie would remain a King meant that his dream of reuniting with his Kentucky teammates, John Wall and Eric Bledsoe, would have to wait five years or so. That is, unless the Kings were ready to get ambitious and creative with trade offers of their own. But now comes the news that at least one team hasn't given up on acquiring Cousins, and that's the team that currently employs Bledsoe: the Phoenix Suns.
According to Arizona Sports, the Suns, at some point, offered the Kings an enticing package to reunite Cousins and Bledsoe in Phoenix.
[Arizona Sports' John] Gambadoro reports the discussions have centered around involving small forward T.J. Warren, center Alex Len, Phoenix's first-round pick this year and possibly more. The Suns own all of their future picks and also own two future Miami Heat first-round picks from the Goran Dragic deal.

Gambadoro said Eric Bledsoe and Devin Booker would not be in the deal.
Normally, I'd put this in my trade rumor round-up files and treat it like pre-trade-deadline static, but Arizona Sports has more. Suns GM Ryan McDonough appeared on the Burns & Gambo show this week, and he didn't deny the report. Instead, he explained why acquiring an elite, yet "difficult," player like Cousins could work for the Suns and coach Earl Watson.
"I think coach Watson is probably either at or near the top of the list in terms of current NBA coaches who would be able to manage a difficult player," McDonough said.

"Earl has a unique ability to be firm with players, be firm with people, be direct with them, but also get them to like him and respect him and even if they don't always agree with the message, they respect that it's delivered in an appropriate way and that they know that he has their best interests at heart." (Via Arizona Sports)
McDonough admitted the Suns are "always looking" to add an elite player, but it would be someone in his early-to-mid 20s. Cousins is 26. Still, would Cousins want to take a step down from the Kings to the Suns, who have the worst record in the West? Yeah, probably.
For starters, he'd fulfill part of his dream and play with his good friend Bledsoe again, but the Suns are also only four games behind the Kings right now, and so they're only 6.5 games out of the No. 8 spot in the West. Acquiring Cousins could give the Suns a massive boost for the final weeks of the season. The Kings probably won't do it, but you'll still have to forgive me for drooling over the thought of Bledsoe, Booker, and Cousins playing together.