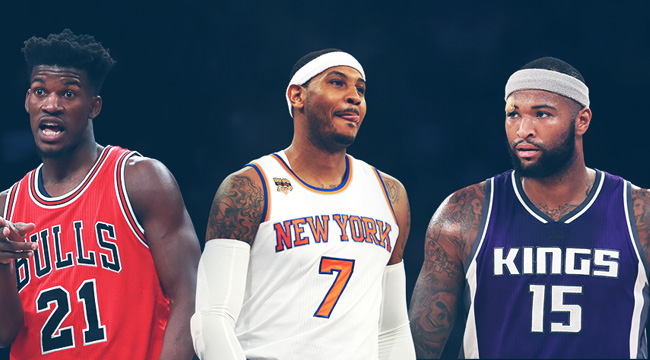 Kyle Korver was supposed to sound the alarm for contenders and fringe teams to get their act together. There's supposed to be a "fire sale," according to 30 images. Once the defending champs added a 35-year-old shooter to the mix, it was believed by some, if not many, that teams forever choking on LeBron James' dust in the Eastern Conference would take stock of their assets and GMs everywhere would shout, "Ethel, get me my rolodex!" (Yes, in my mind, every NBA GM's assistant looks like Ethel Beavers from Parks and Rec, and league executives still use rolodexes in 2017.)
At the very least, we expect the Boston Celtics to make a trade soon, because Danny Ainge is sitting on arguably the league's greatest pile of assets. He's that guy in your fantasy football league who drafted eight running backs but desperately needs a star receiver, so everyone knows it's only a matter of time. In this case, though, it's less a matter of "When?" and more a matter of "Okay, but who?" since even the worst teams aren't rushing to send their stars packing.
But we wouldn't be talking about this if there aren't rumors, so let's kick some tires and see what engines are purring this week…
(As always, a reminder: If you see a wild trade report and the source is The Inquisitr, Yibada English, Christian Post, The Christian Times, sometimes even Forbes, and/or Headline and Global News (which has apparently, finally been expunged from Google News results, hallelujah), just ignore it. Don't get your hopes up and definitely don't share it, because that sh*t is faker than the fake news on your Facebook timeline.)

What's all this noise about Carmelo Anthony?
Some people think the Knicks should have been much better this season, but let's be realistic and fair. They could have been much better this season if certain things had worked in their favor. Obviously, as George Karl reminded us last week, there's still plenty of time for any disappointing team to get its act together, and the Knicks are as close to the No. 2 seed as they are last place. Again, though, let's be realistic. The Knicks are far closer to the No. 8 seed than they are last place, so there's still a decent, if not strong, hope for a playoff spot with half of their season remaining.
So, why the hell are people talking about the Knicks trading Carmelo Anthony? Well, because he's an oft-disgruntled superstar and he plays for a New York sports team. However, the latest installment of Knicks drama came from Phil Jackson's ghost writer and former assistant coach Charley Rosen, who wrote a piece for Fan Rag last week that got the snowball rolling, as he took the usual cheap shots at Melo (he's a ball hog and refuses to learn a new offensive system) while pointing out the obvious: He ain't getting any younger, folks. But it's this little nugget that was buried in a player-by-player breakdown that stoked the flames: