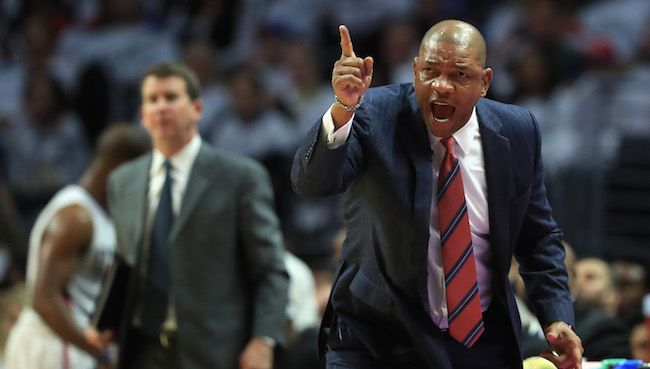 There doesn't seem to be a clear-cut answer for who will be the next head coach of the New York Knicks. Most reports seem to indicate that Jeff Hornacek is something of a dead man walking, as the team's current coach was a Phil Jackson hire who has butted heads with players during his time in charge.
Still, it'll take some time before we know if that's true or if this is a matter of people in New York being overzealous about the direction of their team. If you ask Marc Berman of the New York Post, though, it appears that Hornacek is not long for his job.
Berman reported that the Knicks appear to be ready to join the NBA's coaching carousel this summer. Should it do that, there are two names that sit atop their wish list: ESPN's Mark Jackson and Clippers coach Doc Rivers.
As Hornacek's Knicks stint winds down to perhaps its final seven games, players may be displaying a level of rebellion that could be expected when led by a coach they know may not be back next season.

The feeling around the league is Hornacek won't be brought back by Steve Mills and Scott Perry and that the club may target Doc Rivers and Mark Jackson.

Berman went onto call Hornacek a lame duck and mentioned that there have been multiple players — Joakim Noah and Kyle O'Quinn this year and Kristaps Porzingis last season — who have cursed the coach during his stint with the Knicks.
Jackson and Rivers are both former Knicks point guards with head coaching experience, so it appears the organization knows what it wants in its next coach: An ex-player who has been on the bench before and gets what it means to play in New York. Obviously there are questions about whether either guy would take this job — Rivers already has a head coaching job (assuming he is given another season in Los Angeles, of course), while Jackson has a cushy TV job with ESPN — but seeing as how the Knicks have plenty of time on their hands to make a decision, they might as well shoot for the top guys on their wish list.